PowerEye drone is an aerial cinematography beast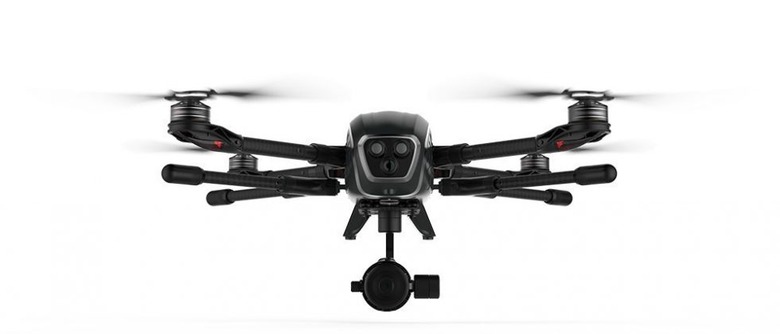 Aerial photography and videography have been made possible in whole new ways thanks to drones, but most of the drone solutions available to consumers are on the low-end of the spectrum (in order to keep price down). That's great if you want something to capture your backyard barbecues from a new perspective, but not so much if you need something highly capable for major projects, whether professional or otherwise. Thusly enters PowerVision's PowerEye drone.
You may know PowerVision thanks to its odd-looking PowerEgg drone, which folds up into an oval shape akin to an egg for easy transport. Whereas that 'flying robot' caught attention due to its atypical design, PowerEye is catching it for an entirely different reason: it's a beast among drones.
Chief among the PowerEye's features is its dual-camera setup, enabling users to view two video streams at once, one from the drone's own point of view and another of whatever you'd like, assuming you can move the gimbal into the right position to view it. PowerVision calls these FPV and subject matter views, and they're both advantageous for different types of aerial videography.
The gimbal-centric view (eg, SMV) comes via a Panasonic micro 4/3rds camera, though the company is also offering a different "thermal" model that includes a thermal camera instead. In that case, the operator can toggle between the thermal view and the regular lighting view using PowerVision's app.
PowerVision packs some other important features into the drone, as well, including the ability to carry payloads of about 6.6lbs, nearly 30 minutes of flight time on a charge, a 4-point lift off and landing design, and the company's own object detection tech for determining whether there's something in the drone's flight path to give the operator a heads up.
The drone is available to preorder now across the globe, seemingly with the exception of the thermal model at the moment, for $3,988 USD. For that price, buyers will get a rolling case, extra propellers, a pair of remote controls, the gimbal camera (a Lumix G), battery, battery charger, and the drone's base station. Preorders are being taken through PowerVision's website.
SOURCE: PRNewswire