PowerEgg drone hits pre-order, ships in October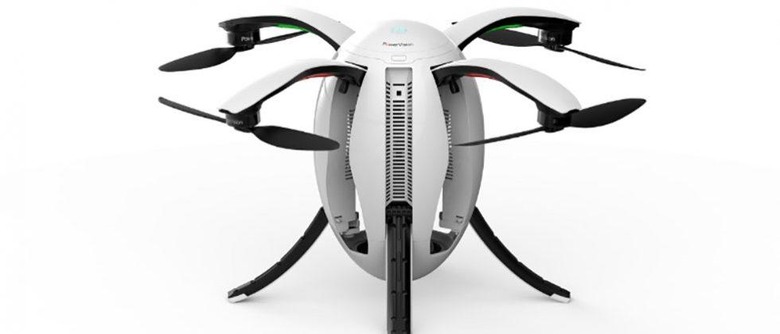 We caught our first glimpse at the PowerEgg drone back in February when it was first unveiled. If you liked what you saw in that lightweight and intuitive consumer focused drone aircraft, you can now pre-order your own. The PowerEgg is from PowerVision Technology Group and can be pre-ordered globally starting now. Shipping is expected to happen in mid-October 2016.
The company is throwing in an extra offering to those who pre-order in the form of a PowerEgg backpack that it says is worth $200 or more. If you missed the PowerEgg when we first talked about it, it is a quad rotor drone that has an egg shape. The propellers can be folded down into the egg-shaped body for storage. It is controlled by a hand-held gesture-based controller called the PowerEgg Maestro.
Using that controller the PowerEgg can take off and land with the push of a button. The maker says that the controls are so easy to use and intuitive that it can be used by anyone. The controller has advanced accelerometers and gyroscopes allowing the drone to be manipulated in up-down, left-right, and near-far motions.
The drone was designed with a separate flight processor and base station to allow for future PowerEgg and third-party controller and upgrade options. The drone does ship with a traditional two-handed controller as well. Other drone features include real-time video transmission over distances up to 3.1 miles in HD resolution and a flight time of 23 minutes. The drone also has an optical positioning system for use indoors when GPS signals are weak. PowerEgg has a 4K UHD camera inside for professional grade photos and video and can record 360-degree video. PowerEgg drone sells for $1288 and pre-orders are made via the PowerVision Online Store.