Portal returns this month, but it's probably not what you were hoping for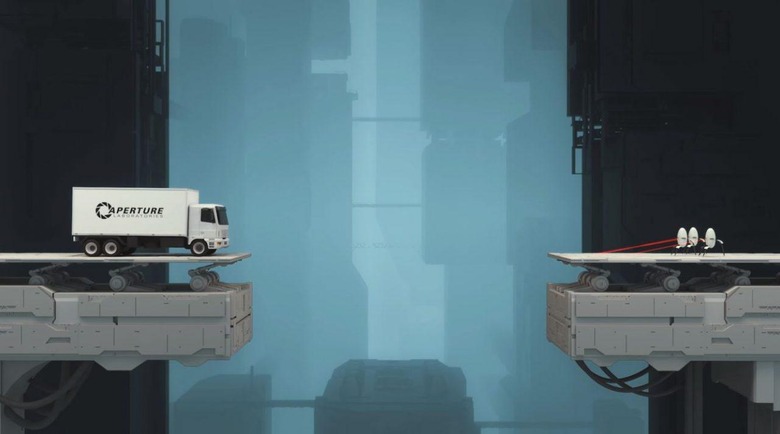 Portal is one of the most famous video game series around, as most Valve franchises tend to become. If you're building a new PC and you're asking your friends for game recommendations, chances are high-to-certain that Portal and its sequel will be near or at the top of the everyone's list. There's only one problem: Portal 2 came out way back in 2011, leaving players without a new Portal game for the past six years.
Those of you Portal fanatics who need a fix are about to get one, but unfortunately, it's probably not what you were hoping for. Today Headup Games announced a new release in its Bridge Constructor franchise that's themed around the Portal series. The game, unsurprisingly, is simply called Bridge Constructor Portal.
If you were already a fan of both Bridge Constructor and Portal, then this is great news. If, however, you've been holding out for Portal 3, it seems that you'll be waiting longer. You might even be waiting forever, if Valve drops Portal in the same way it has Half-Life.
In any case, Bridge Constructor Portal is actually right around the corner. Though we only have an announcement trailer in terms of Bridge Constructor Portal media, Headup Games has announced a release date of December 20, 2017 for the game. On that day, it will launch for Windows, MacOS, Linux, and mobile devices (presumably both iOS and Android).
Then, at some point in 2018, Bridge Constructor Portal will arrive on consoles, but we don't have a more specific launch date for that version yet. Pricing hasn't been announced either, but it seems safe to assume that Headup will stick with the pricing scheme for other releases and launch Bridge Constructor Portal at $9.99. Are you excited for Bridge Constructor Portal, or are you going to keep waiting for Portal 3? Head down to the comments section and let us know!