Portal gun replica signed by Valve being auctioned for charity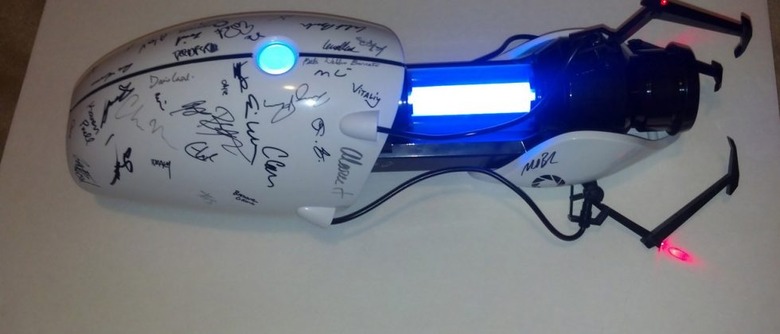 Donating to charity is always a good thing to do, but what if you got something in return? How about a Portal gun replica that's signed by the entire Valve team? Games Art And Music (GAAM) is auctioning a full-size replica of the Portal gun with signatures plastered all over it on eBay, and 100% of the proceeds go directly to charity.
Valve signed a replica Portal gun for the Games Art And Music charity event in Florida, and now that the show is over, GAAM is auctioning it off on eBay, with all of the money benefiting Child's Play, a charity that provides children in hospitals with video games and toys — the same charity that benefits from the popular Humble Bundle.
If you feel like giving to those who are less fortunate and you happen to have an empty space on your shelf, there's no reason not to join in. You'll have to hurry, though. The auction ends today at 1:37 PM ET. At the time of this writing, the replica gun is at $650 with a total of 42 bids — not a bad price to pay for some classic video game memorabilia.
The replica gun is about as lifelike as it gets. It doesn't shoot actual portals, but it does features orange and blue LED lights, unique sounds that correspond to each color, 3-way switch between blue, orange, and off, sound effects that let you hear the infamous portal blast when you pull the trigger, and extendable and posable claws at the front.
[via Joystiq]