Portable Turntable ideal for auditioning vinyl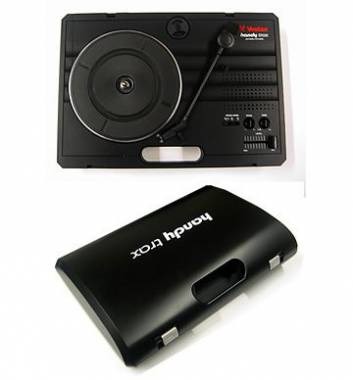 Will the children of the future go to yard sales and badly-lit backstreet stores, will they dig through tray upon tray of ageing flash media and hard-drives, testing out old mp3s on multi-format adaptors and their 89th generation iPod?  I imagine not, which is why this portable Vestax turntable makes me feel a bit weepy inside.  Called the Handy Trax (a name stupid enough to sober me up out of my reminiscences), it's a full belt-driven record-player that can run either on a 12v DC connection or batteries, pumping out music through the built-in speaker.
Tone and pitch controls give you some degree of fiddling, while the dynamic balanced tone-arm means it can play at just about any angle your shaking arms can hold its 2.5kg weight at.  Support for 33s, 45s and 78s mean all are catered for.  It's ideal for trawling round the second-hand markets with, tutting and saying "oh no, that's not the best recording", while the line-out sockets mean it would be equally at home in your grotty caravanette.
On sale now, with a MRSP of $169.