Porsche Taycan sets new EV record at Nürburgring-Nordschleife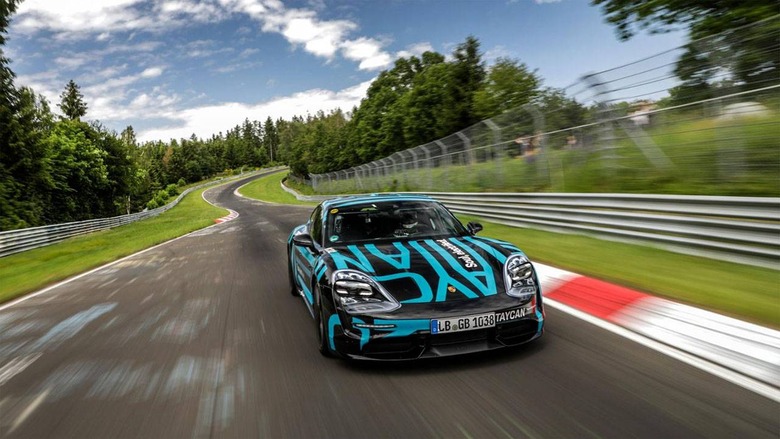 The new Porsche Taycan EV has hit the Nurburgring and set a new record for electric sports cars. The Nürburgring-Nordschleife record that the Porsche Taycan has grabbed is for the fastest lap of a four-door, all-electric car. The Taycan went around the 20.6km course in seven minutes and 42 seconds.
The driver behind the wheel of the Porsche EV was Lars Kern, and the Taycan was a pre-series model. Kern said that the Taycan is suitable for the racetrack and its performance at The Green Hell has proven that. Kern also noted that he was impressed at how well the all-electric Taycan handled in the high-speed sections of the track.
Porsche says that the Taycan has mastered what the automaker calls its "Triple endurance run." That feat saw the Taycan perform 26 successive runs from zero to 200 km/h. The car then completed 3,425 km in 24 hours at Nardo with no issues. The Taycan has now landed a Nürburgring-Nordschleife record.
In its Nardo endurance testing, the car averaged speeds between 195 and 215 km/h in peak temps of 42 degrees Celsius and a track temp of up to 54 degrees Celsius. In the 0- 200km/h runs, the 26 runs were down an airport runway and the average time for the acceleration was under ten seconds. The difference between the slowest and fastest runs was 0.8 seconds.
Taycan is a fully electric all-wheel-drive sports car. It has integrated Porsche 4D-chassis control that analyzes and synchronizes all chassis systems in real-time. The car also has front and rear-axle steering. Porsche notes the Taycan's 800V system contributes to its consistent performance. The car also has several driving modes that optimize the car for performance or efficiency.