Porsche Motorsport teases Cayman GT4 Clubsport rallye concept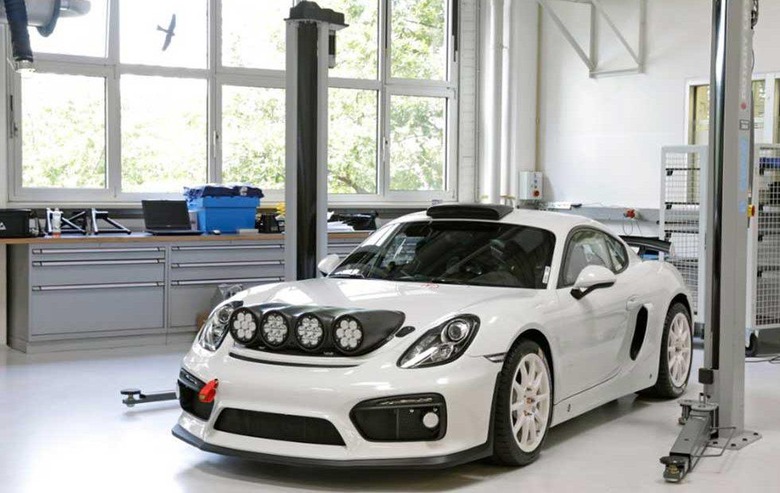 Porsche Motorsport is really turning the screws squishing the hearts of rallye fans with a tweet published recently. The tweet shows a Cayman GT4 Clubsport racer that is decked out for rallye racing. Porsche Motorsport says that this is just a concept car for now.
However, it will be collecting feedback at the German WRC round to see what the "rallye scene" thinks about the car. The decision if a similar car will be produced for racers to buy will be made later in the year. No real details are offered on the car other than what we can see in the images.
The rallye concept has a roof scoop and big LED lights on the leading edge of the hood. The car is clearly fitted with a roll cage, as is the normal Clubsport. The underside of the rallye concept is flat, having not seen images of the bottom of the normal Clubsport it's unclear if this is a change from the normal car.
Porsche Motorsport offers no details on performance, presumably, the rallye concept uses the same engine as the road racing version rolled out in 2016. That car uses a 3.8L dry sump flat six that made 385hp and 310 lb-ft of torque paired with a 6-speed PDK transmission.
The road racer used front suspension from a 911 GT3 and the same rear suspension as the street Clubsport, it's not clear if suspension changes were made for the concept. The road race GT4 Clubsport sells for $165,000.
SOURCE: Twitter