Porsche Cayman GT4 Clubsport is a pure factory racer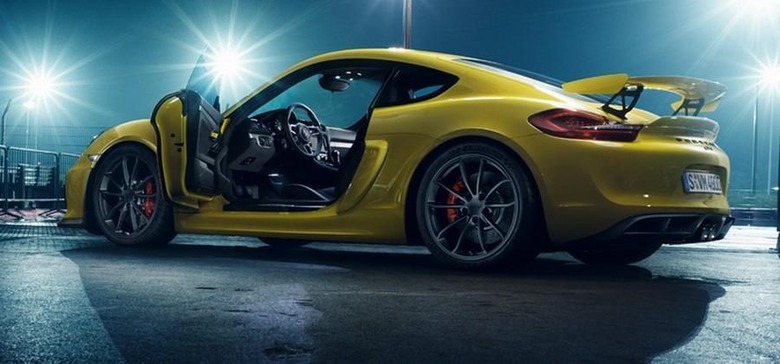 Porsche unveiled one of the coolest streetcars this side of the 911 GT3 not too long ago aimed directly at enthusiasts and the car was called the Cayman GT4. Porsche has announced a new version of the Cayman GT4 that isn't street legal and is designed from the factory for racing. That car is called the Cayman GT4 Clubsport and it will make its official debut at the LA Auto Show next month.
The GT4 Clubsport will presumably look a bit like the street GT4 (pictured here) but Porsche has offered up no images of the car so far. Clubsport buyers will get a 3.8L flat-six that makes 385hp and puts power to the ground via a racing version of the Porsche double clutch paddle shifted transmission.
Porsche fits the car with 380mm steel racing brakes all around and a mechanical rear-axle locking differential. The suspension for the front comes directly from the 911 GT3 Cup racer. The car is gutted tipping the scales at 2866 pounds including the factory welded in roll cage.
The car also gets racing bucket seat and a six-point harness from the factory. Racers will be able to purchase the car through Porsche Motorsport North America, not their local Porsche dealership. The Clubsport is planned for homologation for numerous racing series including the Continental Tire Sports Car Challenge.
SOURCE: Porsche