Porsche Cayenne E-Hybrid pairs 3.0L V6 with electric motor for 462hp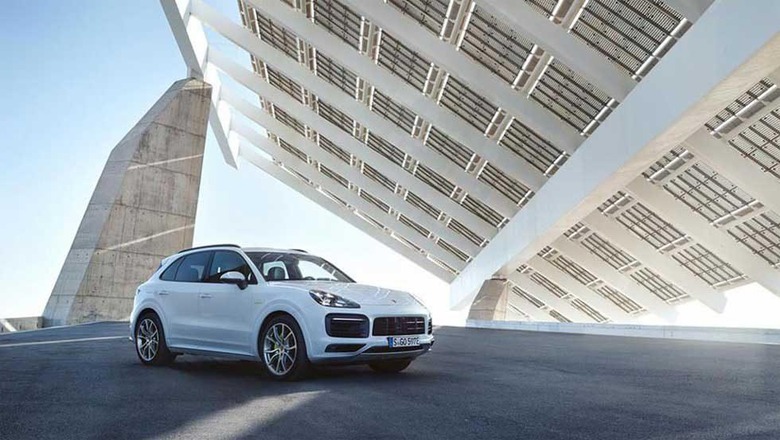 Porsche has announced the Cayenne E-Hybrid and the vehicle has a total of 462hp. The combustion engine is a 3.0L V6 that makes 340hp on its own. It is paired with an electric motor that makes another 136hp. Despite making 462hp total, the SUV is good for combined fuel consumption of 3.4-3.2 L/100km.
Torque numbers for the powertrain are 700 Nm combined with that torque available just above idle. Porsche says that the hybrid boost strategy matches that of the 918 Spyder supercar. The plug-in hybrid tech in the SUV can reach 100 kilometers per hour in 5.0 seconds and has a top speed of 253 kilometers per hour.
E-Hybrid can drive up to 44 km at speeds up to 135 kilometers per hour on electricity alone. Along with the announcement of the hybrid also comes new options for the Cayenne family with a new HUD, massage seats, and 22-inch light metal wheels.
The E-Hybrid has Sport and Sport Plus modes that allow almost all the energy in the battery to be used for boost. Other modes enable maximum driving efficiency. The battery capacity in the E-Hybrid is 14.1 kWh and it is stored under the floor in the rear of the vehicle.
The battery can be fully charged in 7.8 hours with a 230V ten-amp connection. Using the optional 7.2-kilowatt onboard charger and a 230V,32-amp connection the battery can charge in 2.3 hours. Porsche says the vehicle can tow up to 3.5 tons.
SOURCE: Porsche