Porsche Audio System With AM/FM And iPod Dock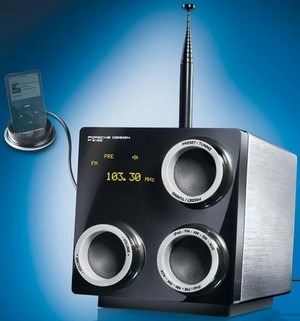 So the features of this system aren't all that and a box of rocks, but the design of the gadget is quit ingenious. First there are the 3 hollow dials that tune the radio, seek, and select input source.
But inside each of those dials is a 1.5-inch cone that is actually a speaker. Then there is the piano black glass finish on the front complemented by the brushed aluminum covering the remainder of the product.
In the back there is a 3-inch active subwoofer which makes this a 3.1 unit in all. I presume that since it has the Porsche name on it the audio quality is at least mediocre if not fairly good for a shelf stereo unit. If you want on it will cost you £409 or a little over $800 USD, so it had better sound simply amazing, or have one of those boxer engines tucked away inside, wait, is that the wrong Porsche?
[via RedFerret]