Porsche 911 Carrera 4 and Targa 4 models debut with turbo engines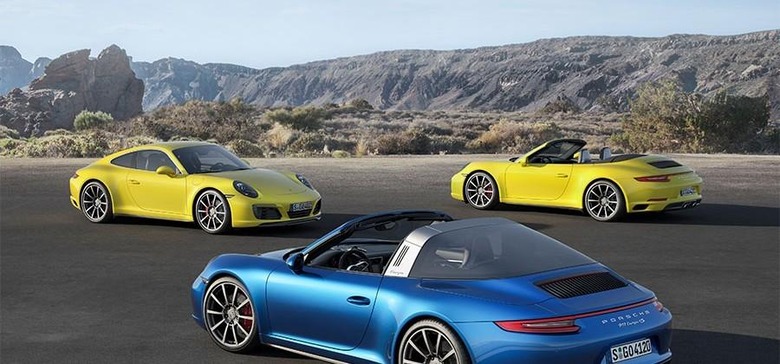 About a month ago, Porsche gave us the first official look at the new turbo 911 Carrera. This isn't to be confused with the long running Porsche 911 Turbo that has been around for generations sitting near the top of the Porsche performance deck. This was the all-new base Carrera that uses a turbo engine. Porsche has now rolled out the Carrera 4 Cabriolet and coupe as well as the 911 Targa 4 models.
The 4 designation is Porsche speak for all-wheel drive and all of these models get the standard turbo engine just like the rear-wheel drive Carrera we talked about last month. The 4 models get the same updates that the standard Carrera receives with new headlights, running lights, and more. Carrera 4 and Targa 4 models get a light strip between the rear lights that has a three dimensional design to set them apart.
The Targa 4 shares its design with the normal Targa including a curved rear window with no C pillars and a Targa bar in place of the B pillars. Carrera 4 and Targa 4 models get the 3.0L six turbo engines making 370hp and 331 lb-ft of torque.
The Carrera 3 can reach 60mph in 3.9 seconds when fitted with PDK and Sport Chrono package. The 4S version can reach 60mph in 3.6 seconds. The Targa and Cabriolet models need an extra 0.2 seconds to reach 60mph. All of the Carrera 4 and Targa 4 models include a standard 7-speed transmission. The normal Carrera 4 starts at $96,300, 4S is $110.300. Carrera 4 Cabrio starts at $108,600, 4S Cabrio starts at $122,600 with Targa and Targa 4S pricing the same as the Cabrio.