Porsche 718 Cayman And Boxster GTS 4.0 Woo Purists With Flat-Six And Stick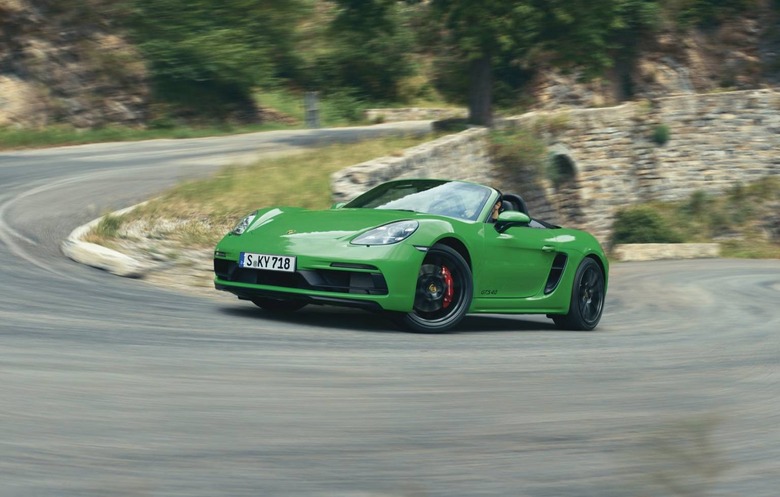 Porsche has a pair of new sports cars likely to go down well with purists, and if you enjoy rowing your own gears and the sound of a naturally-aspirated boxer engine, you may fit that category nicely. The Porsche 718 Cayman GTS 4.0 and 2021 718 Boxster GTS 4.0 each check off a number of performance options as standard, which should make for some fun on – and off – the track.
The mid-mounted engine is a 4.0-liter six-cylinder boxer, which Porsche says is good for 394 horsepower and 309 lb-ft of torque. That's not far off the 414 hp you'd get in the 718 Spyder or the 718 Cayman GT4, the automaker points out.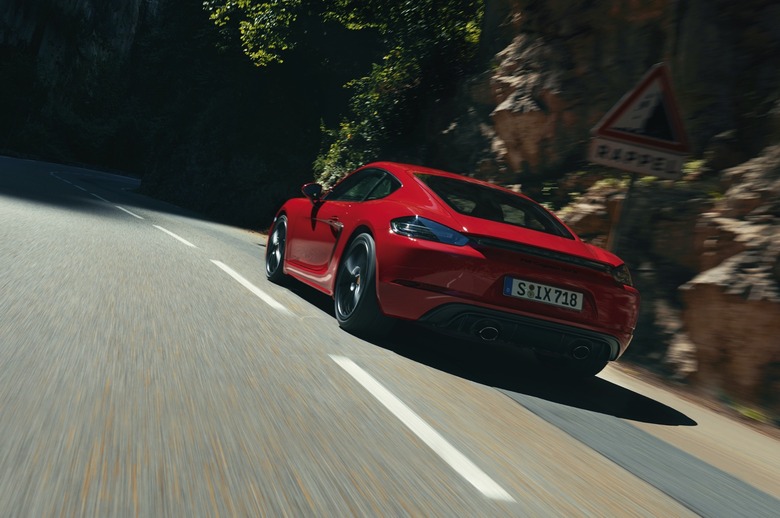 The six-speed manual transmission is not only standard, it's actually the only choice. No PDK paddle-shifters here. Porsche adds the Sport Exhaust System by default, too, along with Porsche Active Suspension Management (PASM). That's adjusted to be 0.78-inches lower than the GTS 4.0's siblings.
Porsche Torque Vectoring (PTV) is standard, with a mechanical limited-slip differential. Throw in the Sport Chrono Package and a new Porsche Track Precision App, and you're looking at 0-60 mph in 4.3 seconds. Top speed is 182 mph.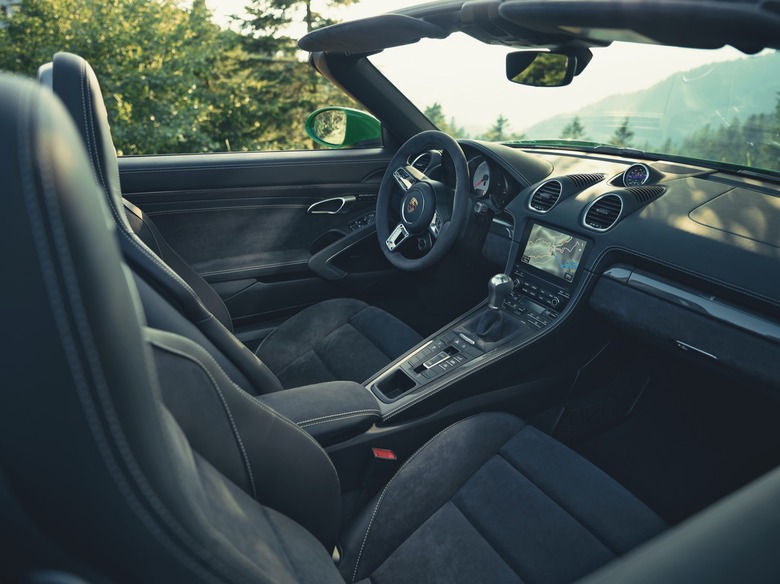 For many, it'll be the naturally-aspirated engine that's most appealing here. That revs up to a 7,800 rpm redline, and of course there's no turbo lag to take into account. Porsche adds an adaptive cylinder control system too, which can switch off one of the two cylinder banks when you're just cruising, for better fuel economy.
Like other GTS models, there are special wheels and bodywork trim. 20-inch light-alloy wheels in satin black are standard, shod by default in high-performance summer tires: 235/35 ZR 20 at the front, and 265/35 ZR 20 at the rear. The brakes now have cross drilled cast-iron front rotors, measuring in at 13.8-inches, with red six-piston calipers. At the back, they're now 13-inches. Porsche will offer its ceramic composite brake package as an option.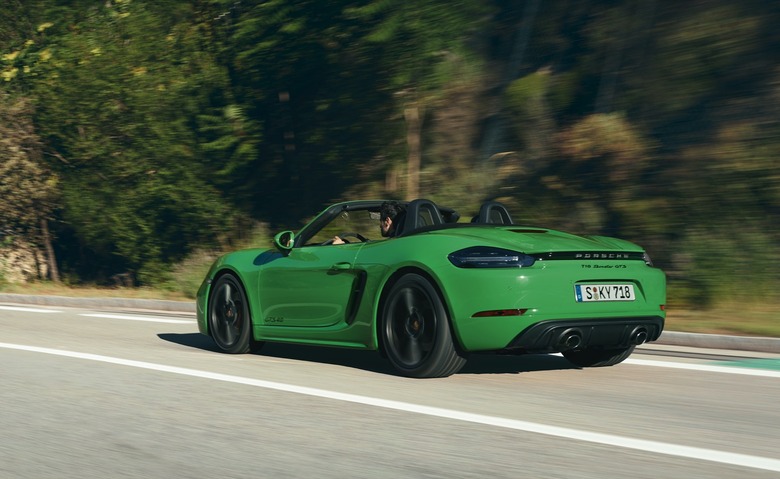 Exterior trim gets a black spoiler lip, front air intake, and lower rear fascia. The front running light lenses and the taillights are tinted to match. Inside, there's plenty of black Alcantara, not only on the standard Sport Seats Plus, but the steering wheel, center console, gear lever, and door armrests. The coupe version of the car has it on the A-pillars and roof lining, too.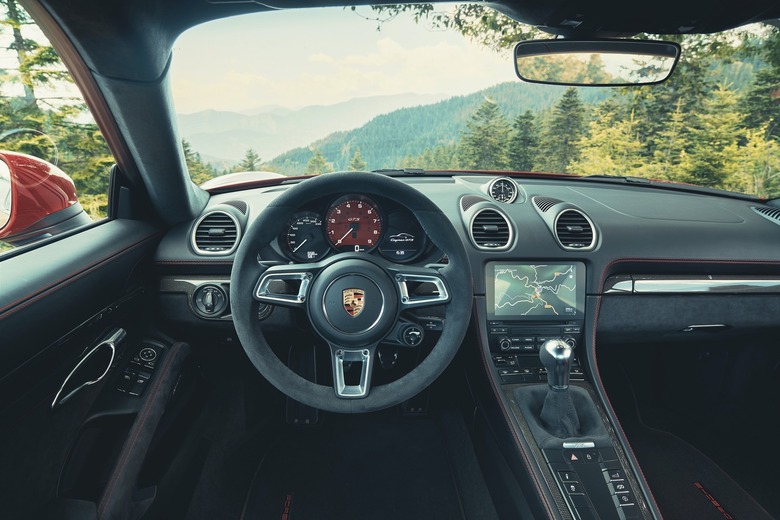 Both coupe and convertible have carbon fiber interior trim, with an optional GTS Interior Package that adds GTS embroidered emblems around the cabin. Porsche's 7-inch touchscreen infotainment system is standard, with navigation and two different audio systems – Bose and Burmester – optional.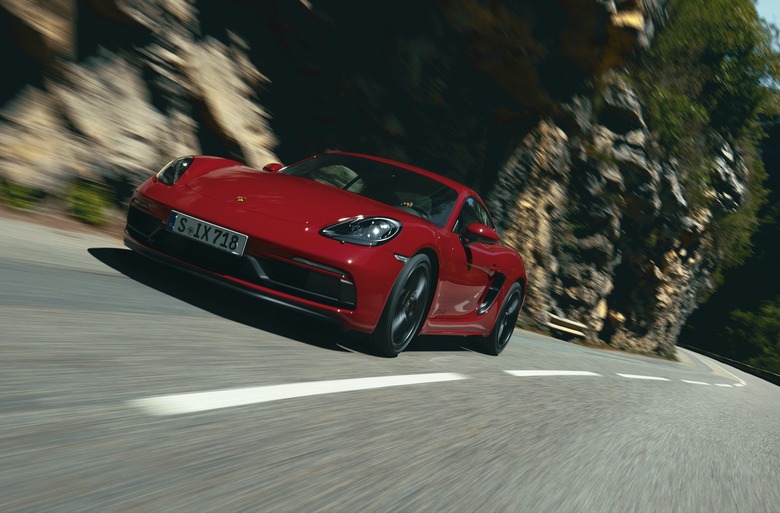 Porsche says the 2021 718 Cayman GTS 4.0 and 2021 718 Boxster GTS 4.0 will go up for order in the US come summer 2020. Pricing and availability will be confirmed closer to that time, but we're expecting something in the mid-$80k's.