Polaroid Snap now available for purchase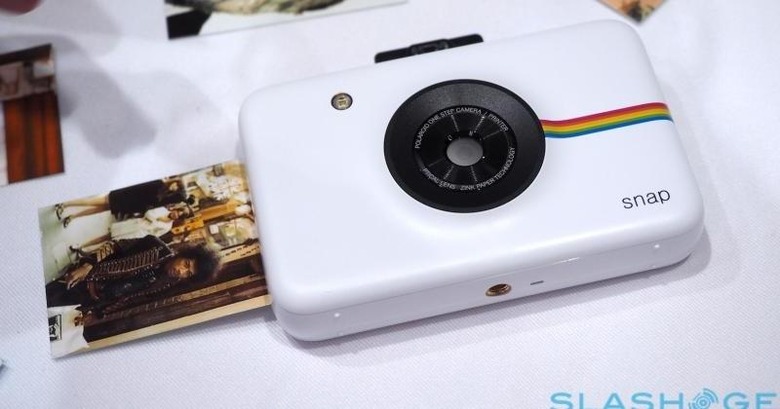 Despite the prevalence of smartphones with rather impressive camera sensors, Polaroid, whose name has become synonymous with instant print photography, has managed to still remain relevant and en vogue. At IFA 2015 last month, the company unveiled its latest attempt to bridge the divide between digital photography and its traditional instant print technology. With Polaroid Snap, not only are owners immediately gratified by a tangible printout of their captured memory, they are also able to store those images on a memory card for posterity's sake.
Most instant still cameras, like Polaroid's or Fujifilm's Instax brand, appeal to more social photographers because their ability to immediately print photos which can then be shared right then and there. Their disadvantage is that once printed out, given, or lost, it is gone forever. Unless you managed to scan the photo first. Polaroid Snap removes that need by actually storing a digital copy of the photo on a memory card, up to 32 GB in capacity, before you print it out. That feature also has a side effect. You can actually take another shot even while the previous one is still printing.
In terms of design, the Polaroid Snap calls to mind more traditional point-and-click cameras, with the lens right in the middle and a popup viewfinder at the top. The camera uses a 10 megapixel sensor for capturing those images. And while it doesn't have modern amenities such as a touchscreen LCD display, it does have a touch of tech, like the ability to shoot in color, black and white, or Polaroid Vintage styles or even a Photo Booth function for taking successive shots.
Like most instant digital cameras these days, the Polaroid Snap uses ZINK's Zero Ink technology which uses heat to activate the colors in a special paper, doing away with messy inks, toners, and cartridges. Of course, you do need special photo paper to use it, but that's already a given in this type of camera anyway.
The Polaroid Snap is now available in the US and the UK for only $100. The camera comes in color options of black, white, red, and blue.