Polaris Sportsman WV850 H.O. gets its inspiration from the MV850, has airless tires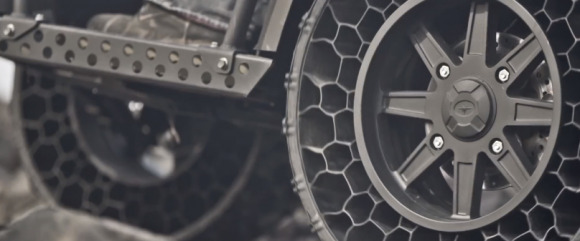 Tires, by their nature, are vulnerable components on any vehicle, though some are more robust than others. For vehicles in situations where a lot of abuse is possible, airless tires have been explored as one possibility to eliminate the hassle (and potential harmful) issue of flats. Real-world usage of airless tires has been close to nil, however, and the technology has seen many years of gradual refinements. The Polaris Sportsman WV850 H.O. changes this, coming with TerrainArmor airless tires.
This particular Polaris Sportsman is technically an ATV, though it is arguably more of an end-of-the-world bug-out vehicle or something to help you conquer whatever brings about the apocalypse. The vehicle is constructed based on the military-spec MV850, and is the first vehicle to offer a non-pneumatic tire system, according to the folks over at Wired.
Though the ATV doesn't come cheap (you'll need a cool $15,000 if you want to enjoy off-roading without tire concerns), the beast will survive through very rugged terrain, and it will take a lot to render its tires unusable. The TerrainArmor tires are able to continue traveling 350 miles after suffering damage from a .50 caliber rifle, and can make 1000 miles despite running over a railroad spike. You can see it handle some pretty angular rocks, too, in the video above.
As far as the Sportsman itself goes, the ATV offers a single-speed transmission and can tow up to 1500 pounds, boosting that number to 3500 with a winch. The gas tank holds 11.75 gallons of fuel, as well, so you'll be able to go a fair distance before having to find a gas station. The production is limited, with sales starting in December.
SOURCE: Wired