Pokemon X and Y hit 1M units sold faster than any other Nintendo 3DS title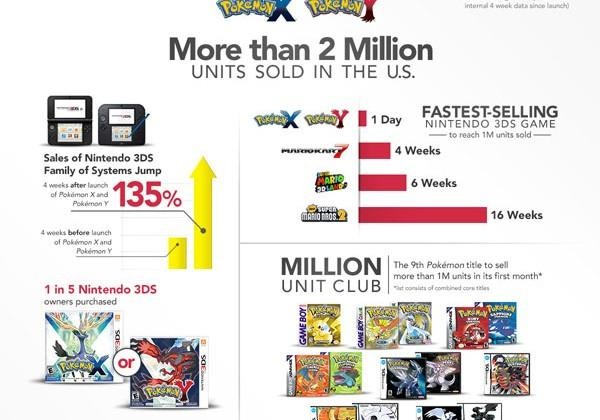 Nintendo hasn't been doing that well of late on the gaming market with most of its gaming hardware. The Nintendo Wii U isn't selling well at all leaving Nintendo without a horse in the next generation console race. One of the only bright spots in the Nintendo hardware line has been the 3DS portable console.
The Nintendo 3DS was the best selling game system in the US back in August. Nintendo also recently launched one of the most popular titles to ever hit the 3DS portable console with Pokemon X and Pokemon Y. The gaming company has offered up a slick little infographic, which you can see above to celebrate the success of the new Pokemon game.
Nintendo says that Pokemon X and Pokemon Y reached the 1 million units sold mark faster than any other 3DS game in history. The game also spurred sales of the 3DS console as well with Nintendo reporting a 135% increase in sales four weeks after the launch of the game.
Statistics show that 1 in 5 Nintendo 3DS owners purchased the video game. Nintendo is also bragging about how much traffic Pokemon X and Y for the 3DS generated on social networks. There were more than 2 million tweets in the past 30 days about Pokemon according to Nintendo. The game was also the fastest selling title in Nintendo eShop history.
SOURCE: Nintendo