Pokemon TCG Sword and Shield released in stores today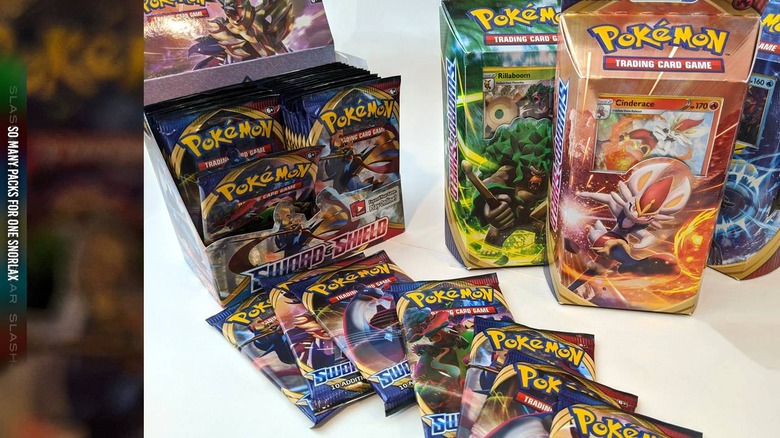 The Pokemon Trading Card Game series set "Sword & Shield" was released to the public today, here on Friday, February 7, 2020. This set is the first card game set for the official Pokemon TCG to feature cards from the video games Pokemon Sword and Pokemon Shield. This is the first time we're seeing a whole bunch of new cards, and a brand new game mechanic – Pokemon VMAX!
Above and below you'll see photos from our early Pokemon Sword and Shield TCG unboxing. We got up close and personal with a bunch of packs, the cards they contained, and the wild variety of rare, ultra-rare, and otherwise special and/or shiny foil cards in the set.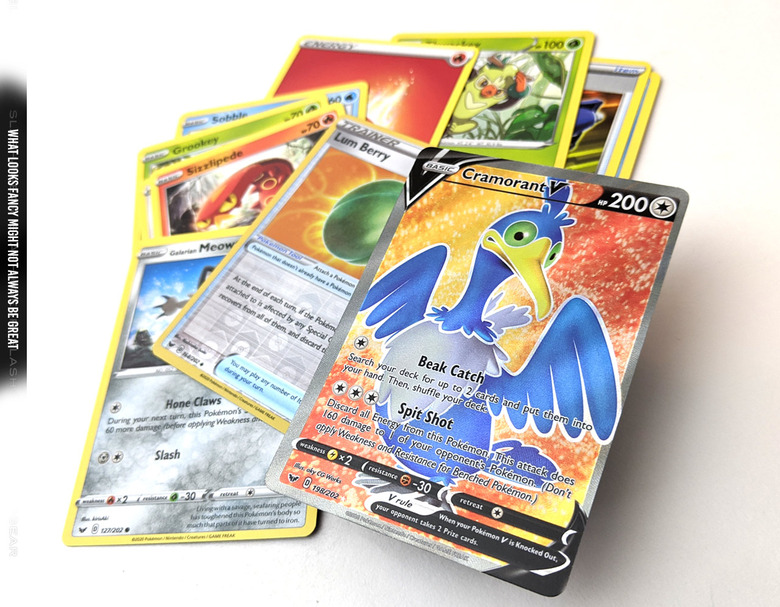 This card collection includes 202 new cards as well as a few extra "secret" cards not listed in the normal set. You'll find each card's number out of 202 in the lower right-hand corner – most will be akin to 130/202, but the rarest of the rare will appear as 205/202, and so on. In the images you see above and below, we've got some rares, but even after 30+ packs, we didn't get a single "secret" rare – not even one!
The most awesome element in the set has to be the VMAX Pokemon, of which there are several. We got our hands on the textured-foil Snorlax VMAX, which evolves from Snorlax V! This Gigantamax Pokemon is so massive, he's got a landscape on his belly!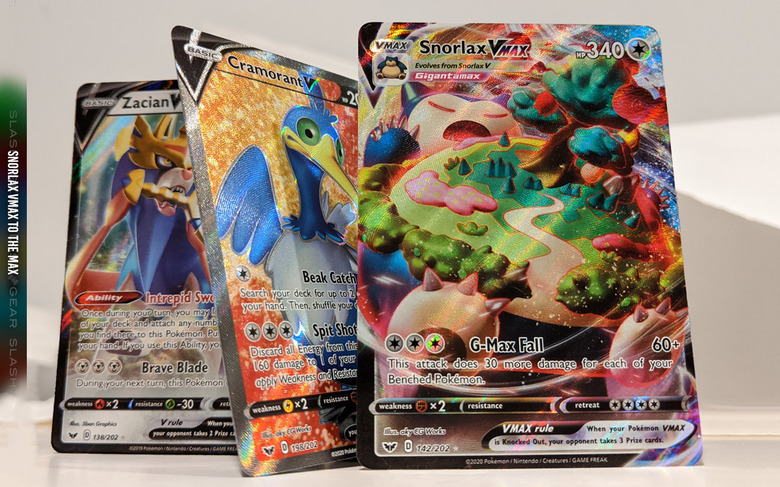 Gigantamax (VMAX) Pokemon are so extremely massive and powerful, they're worth three Prize cards when knocked out! Even if you don't have a deck of Pokemon cards in which a VMAX Pokemon would reasonably fit, the cards are still incredibly beautiful – so get pumped up either way!
New packs of Pokemon Cards in the Sword & Shield expansion are available in stores as of today. You'll be able to find 3-packs of cards for around $13 (with special rares), "Theme Deck" boxes for $13 with one of three key Pokemon at the helm, a Sword & Shield S1 Elite Trainer Box for $40, and individual packs for around $4-6, depending on the store you visit!