Pokemon Let's Go trailer previews gym leaders and the Elite Four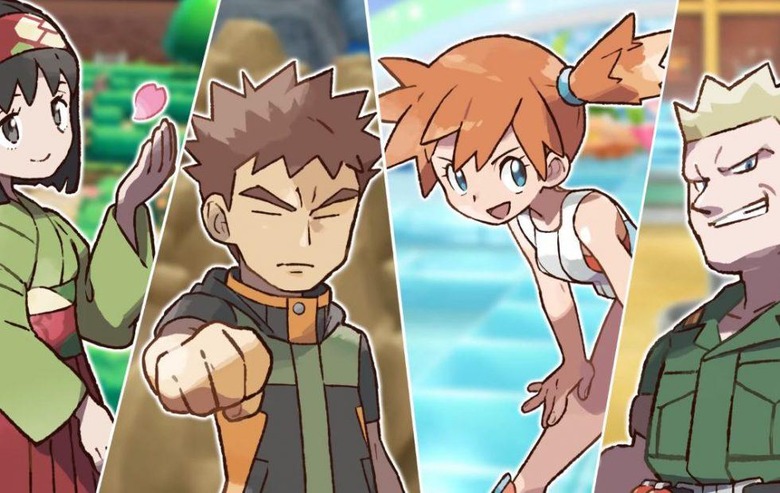 Now that we're into November, Pokemon Let's Go is on the horizon. These two new titles – Pokemon Let's Go Eevee and Pokemon Let's Go Pikachu – are among the first Pokemon games heading to Nintendo Switch, though they won't quite offer gameplay that Pokemon fans are used to. Though the games are based on 1998's Pokemon Yellow, they take a fair amount of inspiration from Pokemon GO as well.
Due to this, there's a lot of curiosity surrounding just how these games will play and what they'll offer to longtime fans of the series. Today, a new trailer is taking us back to Pokemon's roots by previewing some of the enemies players will face as they make their way through Pokemon Let's Go. If you played Pokemon Yellow (or Pokemon Red or Blue, for that matter), then you probably already know what to expect.
Though the trailer is fairly brief, we're able to catch quick glimpses of all eight gym leaders: Brock, Misty, Lt. Surge, Erika, Sabrina, Koga, Blaine, and Giovanni. Giovanni, of course, also moonlights as the leader of Team Rocket, the villainous, Pokemon-stealing organization that players will go toe-to-toe with throughout the game.
Then we come to the Elite Four. In most mainline Pokemon games, players challenge the Elite Four after defeating all eight gym leaders, and it looks like Pokemon Let's Go will be no exception. Again, it's a short trailer, but we're still shown images of the Kanto Elite Four: Lorelai, Bruno, Agatha, and Lance.
So, while Pokemon Let's Go will do quite a bit to shake up some of Pokemon's usual mechanics (like monster catching), it seems that the main progression will stay at least mostly the same. In fact, it looks like there isn't too much changing about Pokemon battles in general, which is good news for those who didn't want Pokemon Let's Go to be too much like Pokemon GO.
Even though Nintendo clearly considers Pokemon Let's Go to be a major release for the Switch, some core Pokemon fans may consider this more of an appetizer for what's coming next year. Nintendo and Game Freak are planning to release a mainline Pokemon RPG for the Switch in the second half of 2019, and we're definitely looking forward to seeing how the series changes as it transitions from the 3DS.
For now, though, we've got Pokemon Let's Go coming up fast. The games will launch on November 16, so there's just over a week to go before they arrive. Nintendo is also launching a special edition Switch to go that's been decorated with Pikachu and Eevee decals and is launching on the same day as the games.