As if we needed any more evidence that Pokemon GO was a wild, record-breaking success, app analytics firm Sensor Tower is saying that Pokemon GO has managed to pull in an estimated $200 million in global revenue during its first month. Of course, we've all been expecting Pokemon GO to raise a ridiculous amount of revenue, but if this $200 million figure holds true, that puts it head and shoulders above other top earners in the mobile space.
Specifically, Sensor Tower compared the estimated revenue of Pokemon GO to two previous smash hits: Clash Royale, which was released earlier this year, and Candy Crush Soda Saga, which has been available since 2014. While the chart Sensor Tower provided shows Pokemon GO and Clash Royale almost neck-and-neck in revenue during their first two-and-a-half weeks of availability, Pokemon GO's revenue begins to spike around day 18. The reason for that jump? That's when Pokemon GO was released in Japan.
There were lofty expectations for Pokemon GO's Japanese release, and it looks like eager fans of the long-running Pokemon franchise delivered in a big way. When the game launched in Japan, it had just hit around $75 million in worldwide revenue, but afterward, it began a sharp climb that would take it to $200 million in just two weeks.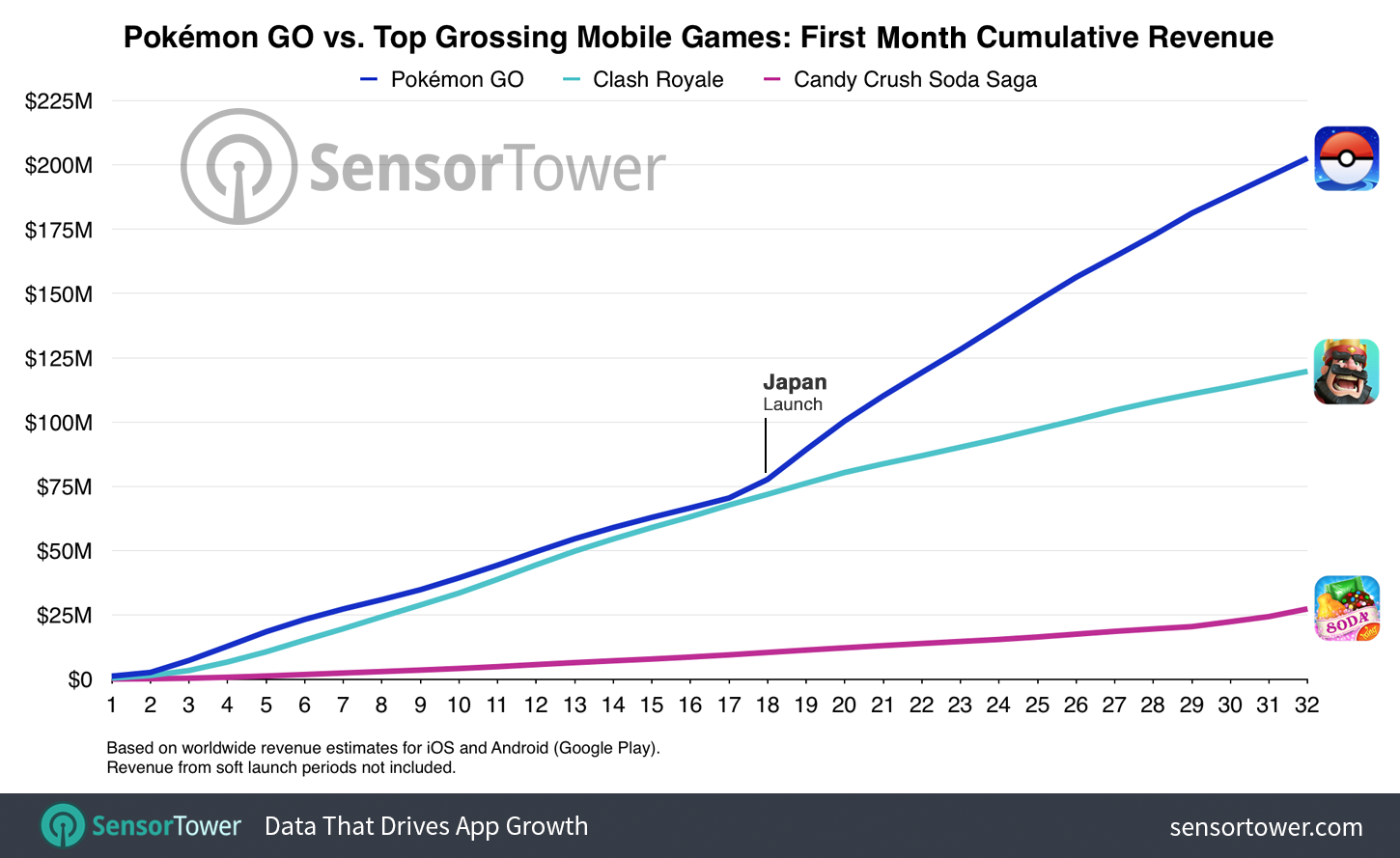 The thing to remember here is that Clash Royale and Candy Crush Soda Saga are still considered resounding successes in the mobile realm, which makes Pokemon GO's rise to the top even more astounding. The game launched in a bunch of new regions over the weekend, so we'll get the chance to see if it can continue this surge in revenue. We'd normally expect revenue to drop off at some point, but so far, the launch of Pokemon GO has proven to be anything but normal.
SOURCE: Sensor Tower