I'd Say I Like This Detective Pikachu Hat Ironically, But I'd Be Lying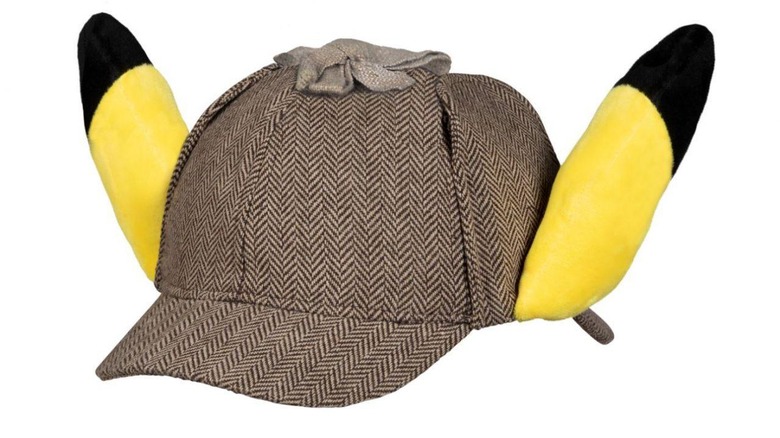 Detective Pikachu is on the horizon, and while we're still trying to figure out just what makes Ryan Reynolds the perfect fit for the voice of Pikachu, The Pokemon Company has gone along and announced a bunch of merchandise for the movie. Of course, with any movie aimed primarily at children, toy sales are going to be a major focus for studios, and The Pokemon Company is definitely no exception to that age-old rule.
In fact, the company is even going so far as to launch a mini-expansion for the Pokemon Trading Card Game. This Detective Pikachu set will feature 24 cards and will be available in four different box sets. There are three sets that include two four-card Detective Pikachu booster packs and oversized cards featuring Pikachu, Charizard, and Greninja. There's also a collectors set that packs eight Detective Pikachu packs into a metal case with various extras, such as a notepad and a sticker sheet.
Perhaps the biggest announcement of the day is that pf Detective Pikachu's tweed deerstalker hat, which you can see in the image above. The hat is, of course, based on the one Detective Pikachu wears in the movie, and it even comes with a pair of Pikachu ears for fashion-forward Pokemon trainers like myself. The hat will be offered alongside other apparel and accessories inspired by the movie at The Pokemon Center beginning in April.
Wicked Cool Toys will be producing a talking plush Detective Pikachu that has motorized ears and speaks 14 different responses. The company will also be making a collection of 2-inch and 3-inch scale figures based on various characters from the movie, including Detective Pikachu, Bulbasaur, Ludicolo, Psyduck, and Mr. Mime. Finally, we'll see Mattel launch a pair of Mega Construx Detective Pikachu sets.
It sounds like the products The Pokemon Company announced today will be just the tip of the iceberg. The company also announced plans for lines of licensed apparel and home decor items that will be offered through major retailers around the time of the movie's launch. It's even publishing a making-of Detective Pikachu coffee table book in-house, so we'll be keeping an eye out for more on all of that in the coming months.