Pokemon Cobalt and Amethyst Minecraft map is all sorts of cool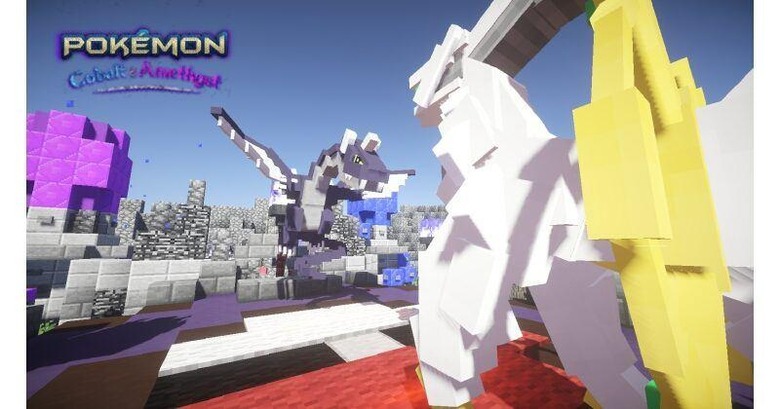 While Pokemon has long been a craze, even before things went crazy when Pokemon GO hit mainstream media. As such, there has been no shortage of fan-made games and content, many of which have sadly been taken down by the dreaded DMCA notice. Pokemon Cobalt and Amethyst, however, deserves a special honor. It's not a mere recreation of existing games and monsters but an almost completely new spin. But even more impressive is the fact that it all happens inside a vanilla Minecraft map.
Minecraft has been home to many a creative, and sometimes insane, pursuit. It is also home to many recreations of favorite pop culture places and things, from Game of Thrones' Red Keep and even to Star Trek's USS Enterprise. There have also been some interactive worlds created in Minecraft, but many of these require special mods or modded Minecraft servers. And that's what sets Cobalt and Amethyst apart.
Pokemon Cobalt and Amethyst promises a genuine Pokemon game experience on vanilla Minecraft servers. No mods are needed, which means everyone and anyone can enjoy that experience right of the box. That said, the developers do recommend using Optifine for performance reasons but no other mod should be enabled. The game runs on Minecraft server version 1.8.8 though even 1.8.7 is supported.
Content-wise, the game isn't simply a port of an existing, and therefore copyrighted, Pokemon game. While the basic mechanics and themes are the same, the game is new and different. It boasts of 136 never before seen or heard Pokemon and 60 to 80 hours of gameplay. Of course, the basic "save the world using Pokemon" is there. too.
That said, it does use the Pokemon brand all throughout and, despite having original content, could still end up with the same fate as Pokemon Uranium. But perhaps things could still end up differently considering it's a Minecraft map and not exactly a standalone game.
SOURCE: Minecraft Forums