PogoCam is a small, attachable camera that works with almost any eyeglasses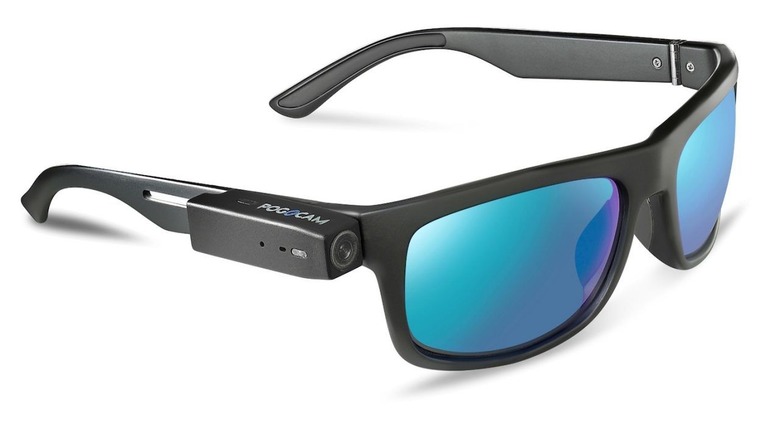 The Google Glass may have gloriously failed, but that's not stopping tech companies from giving the eyeglass camera wearable another shot. Most notable has been the gradual rollout of Snapchat's Spectacles, which features a camera integrated with a pair of simple sunglasses that records brief videos and shares them on the social app. But if you'd prefer to shoot video that's not tied to one app, and use your own glasses, the PogoCam is just what you're looking for.
The PogoCam can be attached and detached from just about any style of sunglasses or prescription eyeglasses, meaning the fashion-conscious aren't tied to one specific look. The camera measures 10.9 x 12.5 x 42.8 millimeters, is said to weigh less than two dimes, and can capture both video and still images.
Like the Spectacles, the PogoCam is just a camera that can capture media from the wearer's viewpoint, meaning there's no display to look through or UI to navigate like with the full-blown Google Glass. A small blinking light on the front lets others know that the device is recording, and the 5MP camera can capture up to 100 still photos or two minutes of continuous 720p HD video with audio, with the other option being 12 ten-second video clips.
Recording is activated and stopped with a single button press on the side of the PogoCam, and the device can easily be removed from a pair of glasses for situations where cameras are discouraged. Video and photos can be transferred to the smartphone app over Bluetooth or with a wired connection, and the camera offers a recharge time of roughly 30 minutes.
The PogoCam will shown off at CES 2017 in January, and is due to be available sometime next year, however pricing info is not yet available.