Podo camera redux has larger pixels, wide-angle lens, two week battery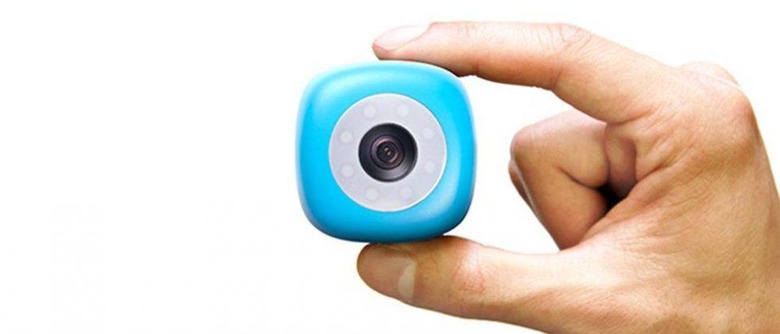 Remember the Podo wireless camera? It's back again, this time as an upgraded version that has, among other things, twice the pixel size as the original and a wide-angle lens. Despite the changes, Podo still offers its best features — you can stick it anywhere (just about, anyway) for quick on-the-fly recording. Stick it to a door, and it'll record your visitors; to a wall, and it'll record your pets; to the fridge, and it'll see who is stealing your lunch.
Podo is a small Bluetooth camera that works with a related mobile app to, among other things, livestream video. The app is used to do things like adjust camera settings, set a timer, and snap a photo. Joining both video recording and still images is the option to take time lapse videos; videos, though, are captured in 720p resolution.
The camera sticks to surfaces using a so-called micro adhesive backing; it also has a hinge mechanism, allowing the user to change its angle as necessary. With this latest version, users get 8GB of storage, an LED light ring for status demonstration, not flash, an integrated accelerometer, and an integrated Li-ion battery for up to two weeks of use per charge. With this new model, up to six Podo cameras can be connected simultaneously.
The Podo camera's campaign has already exceeded its $50,000 goal, hitting more than $250k with 15 days remaining. Those who are interested can pledge $39 USD to get the early bird model with delivery before Christmas (anywhere around the globe). Only 42 of these are left, though; the next step up is the Kickstarter special for $49 USD. The company anticipates the commercial version retailing for $79 USD. As with any crowdfunded campaign, these things are subject to change.
SOURCE: Kickstarter