There is no shortage of powerful new smartphones in the market this year but almost all of them, with very few exception, will burn a whole in your savings. One of those exceptions is the Pocophone F1, a.k.a. POCO F1, a new smartphone brand under Xiaomi's name. While it does make a few compromises, the overall package is almost a dream come true given it's price tag. Unlike Xiaomi's other phones, the Pocophone F1 seems to be ready for the US but it will be asking consumers to make the biggest compromise of all.
The Pocophone F1 is pretty much a high-end premium flagship in non-premium clothing. Inside, you get a Snapdragon 845 chip with 6 GB of RAM and 64 GB of expandable storage. The screen is a large-ish 6.18-inch LCD panel with a resolution of 2246×1080, which means it has a notch. It has a dual 12 MP + 5 MP camera on the back and 20 MP selfie shooter. The whopping 4,000 mAh battery may not be replaceable but it is at least easy to get to.
As for the compromises, the F1 makes a return to polycarbonate plastic but not a brittle one at that. There's no NFC and no dust and water resistance rating. Except for the NFC for mobile payments, those might not be such a big sacrifice.
For interested US buyers, however, there is one that might be a deal breaker: network support. The Pocophone F1 appeared on B&H Photo as a pre-order and its list of supported networks and bands are quite disheartening. For one, CDMA networks like Verizon's and Sprint's are completely out of the question. But even for GSM carriers such as AT&T and T-Mobile, the F1 is noted not to support 4G LTE.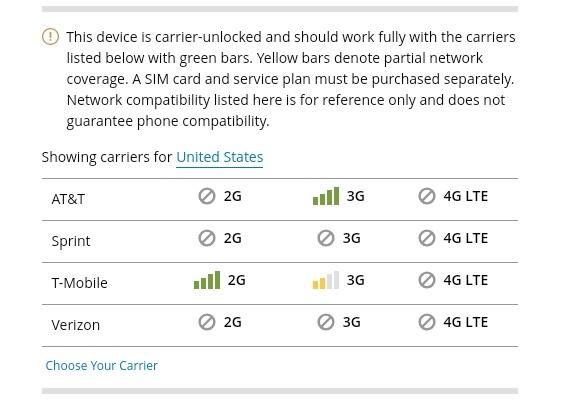 For a modern, affordable high-end phone like the Pocophone F1, that's just too much to ask. Even with a juicy $369.99 price tag, there are other phones on that tier that would still outdo it in some aspects. Hopefully this isn't the end to the Pocophone F1 story because otherwise it would be DOA in the US.