PocketDock charges your iPod and connects to home stereo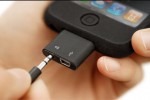 Many of the gadgets I like to take with me when I travel charge from USB ports or AC adapters that have USB connectors. That means that I can pretty much take one cable or charger for many of my devices and be just fine.
However, my iPod needs that proprietary iPod charger to get juice making me take an extra cable with me. SendStation has announced a new Made for iPod accessory called the PocketDock. The device is claimed to be the world's smallest mini USB to iPod adapter with an integrated line out jack. The mini USB port allows you to charge using a plain USB cable.
The line out jack is a 3.5mm unit that is designed to connect the iPod to a home stereo. The PocketDock is about the same size as the iPod charge plug measuring in at 7mm x 25.5mm, which means it will fit through the docking slot of iPod cases. The dock is available now for $29.95.