Pocket Retro Game Emulator keeps it old school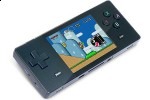 If you're a lover of older games, then you'll love this new Pocket Retro Game Emulator from ThinkGeek. This gaming device is completely portable and lets you relive the glory days of NES and Sega Genesis in style.
This game emulator makes it possible to play games from numerous older systems including NES, SNES, Neo Geo, GBA and Sega Genesis. Just load up some ROMs and you're on your way to fun gameplay.
The device comes with 4GB of storage, a mini-SD slot and the ability to play audio and movie files and view JPEGs and e-books. A FM radio is built-in as well. Four control buttons line the right side and there's two shoulder buttons. You can transfer ROMs over USB from your computer. The Pocket Retro Game Emulator is available now for $99.99.
[via Coolest Gadgets]