Pocket gets social with public Recommendations feed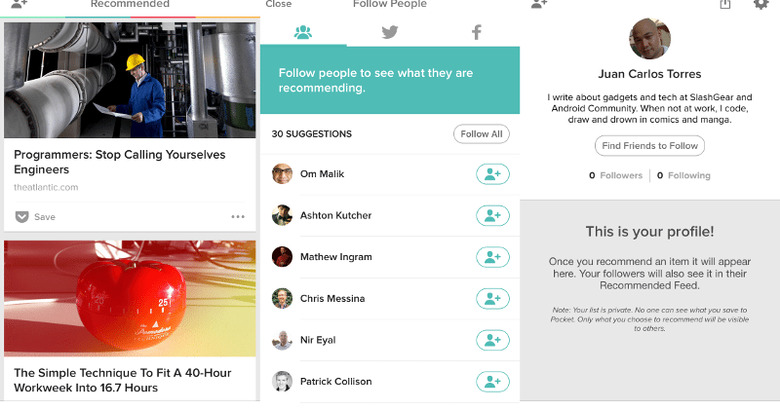 These days, if you aren't social, you aren't going to survive long in a competitive tech world. Or at least that seems to be the hidden, perhaps even unintended, message behind Pocket's upcoming new feature. What started out mostly as a personal reading list is now becoming something like Pinterest for text content. In its beta testing channel, Pocket has rolled out a feature that pimps up the Recommendations feature it introduced last July, now with the option to post them on a public feed that others can follow.
It's like Pinterest and Twitter rolled into one but mostly for Internet articles. Pocket started out as Read-it-later (which was actually its former name), an article saving service that competed with the likes of Instapaper. In its initial and still core form, it is basically a way for users to queue up articles for later reading, sometimes in a simpler, distraction-free format.
Over the years, however, Pocket has expanded not just its functionality but also its user base. The service has had a feature to share articles on social media but sharing those one by one could be a bit tiresome, not to mention transient. Last July, Pocket introduced its beta channel for throwing around new features, which included a Recommendations tab filled with suggestions based on the content you already pocketed. With the latest beta, Pocket is taking that tab into the social world.
In essence, Pocket users are getting their own public profiles ala Twitter (it even uses that @username convention) and those profiles contain a feed of content you think might be of interest to others. And like Twitter, you can follow others and others can follow you in turn. Don't worry about privacy, however. All items you save to Pocket are always private by default. You will have to actually explicitly add an article to your recommended list. At the moment, it seems that you'll have to do that one by one, as Bulk Edit doesn't seem to have a button for that yet.
The feature is available only on Pocket's beta channels, which is easy enough to get into. No word yet when it will roll out to the general public.