Pocket Drone blasts through Kickstarter campaign, offers an eye in the sky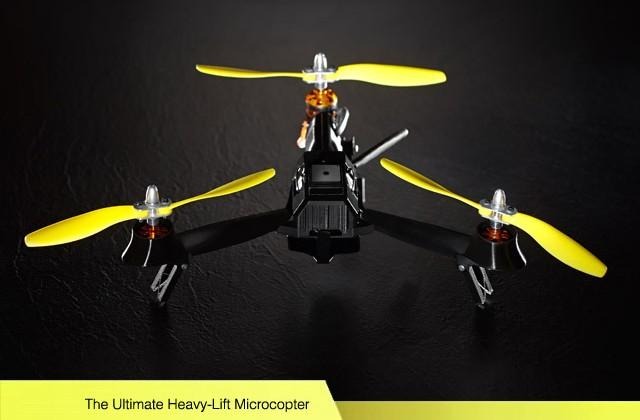 Drones have been a hot topic in both the tech and the political world, particularly following Amazon's stated goal of delivering products by drone one day. Building upon this and adding itself to the Kickstarter history book is the Pocket Drone, a device said to be the first ever multicopter with enough power to hoist a quality action cam into the air, such as the Go Pro.
The Pocket Drone is a small unit that can be folded up into an even smaller folded drone, with a lightweight body and the power necessary to lift a camera larger than a button offering into the air. The makers are hailing it as having the longer flight time for any multicopter priced under $500, and it is able to be expanded, hacked, and upgraded by the user if desired.
There's an integrated camera mount, landing gear, and folding propellers, as well as a swing arm and telescoping tail frame. There's an included controller, but enthusiasts can use a DSM-compatible radio controller of their own choice. The drone can be controlled from a phone with a USB port or Android tablet. Beyond this, the drone is compatible with Linux, Mac, and PC.
The Kickstarter campaign had a stated goal of $35,000 USD, something it blew past in its first day and now, on its second day, sits at $58,333 USD with 142 backers. $40 gets a backer will get some exclusive propellers, while $415 USD will get a ready-to-fly drone to accompany one's own controller.
SOURCE: TechCrunch