PNY unveils new NVIDIA GTX 580 liquid cooled graphics card with CPU cooling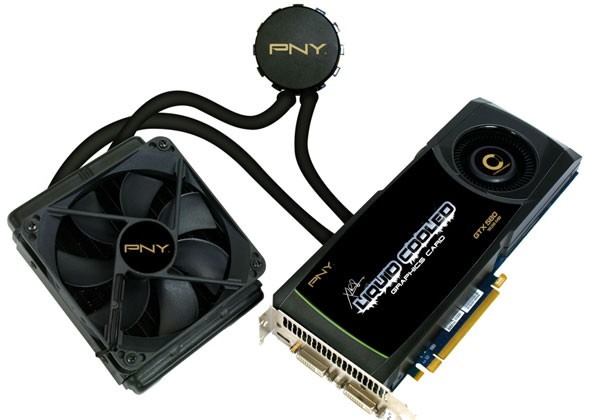 PNY has been selling NVIDA branded video cards for a long time now. The company started out years ago and has offered a video card with each new GPU that NVIDIA has launched. Generally, the video cards are not the high-end overclocked offerings if they have the PNY name on them. They tend to be stock cards. PNY has announced a new video card that has a really cool feature.
The video card has a liquid cooling system that helps to keep the GPU cooler. The card has a fan as well and the liquid cooling system is for extra cooling. PNY even extended the liquid cooling circuit and allows the system to chill the CPU as well in one version of the card. The liquid cooling system the card uses is powered by Asetek. Asetek hardware is found inside a bunch of different computers that use liquid cooling.
The video card has a pair of liquid cooled pipes that take the heat away from the GPU. The card promises to be 30% cooler and quieter than the original GTX 580 video card. The card supports all the tech that new NVIDIA card offer like 3D gaming, PhysX and CUDA. If you want a quiet, but powerful gaming machine this may be the video card you need. The card with CPU cooling sells for $649.99 and the card with GPU cooling alone sells for $579.99. PNY doesn't mention clock speeds for the video card meaning it must use stock reference clocks.