PNY offers GTX 570 video card with cool game bundle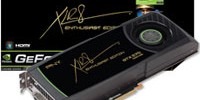 Yesterday marked the official launch of the NVIDIA GTX 570 video card line. The launch means that hoards of cards were landing on the market and for most of them the only thing that separates them from each other is the name stamped on the box and the game and software bundle that the cards ship with. PNY has unveiled its GTX 570 and gamers that are fans of the StarCraft series may like the bundle.
The PNY card carries the MSRP that NVIDIA suggest selling for $379.99. For that much loot, you get the standard clock speeds and features with 1280MB of GDDR5 RAM, a 732MHz core clock, and a 1464MHz processor clock. The card has 480 processing cores and a texture fill rate of 43.9 billion/sec. The card supports all of those NVIDIA features like 3D Vision PhysX and SLI as well. The bundle the card ships with includes a trial version of version of StarCraft II: Wings of Liberty.
That's not very good and this is the first time I have seen a video card come with a trial version of a game. Typically, a game bundled with a new video card is the full version. You do get a full-length movie download though from Sony with the purchase with a bunch of choice like Big Daddy and more. A special limited edition version of the card sounds much better, assuming you want HDMI Mini. This card comes with the HDMI cable and a full version of HAWX2.