Plustek OpticBook A300 flatbed scanner launches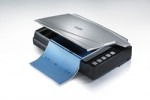 Plustek revealed the next flatbed scanner in their OpticBook line today called the A300. This scanner is in large format and is intended to be used to scan books or anything that's bound and normally difficult to fit on a regular scanner.
This new scanner is capable of scanning 12 x 17-inch A3 pages. It can do so at a rate of 2.4 seconds and works with even very thick books. And for your convenience, your scans will convert to PDF automatically.
It can adjust for the distortion caused by the curve of a book's spine and automatically convert scanned text into image files. You can get the OpticBook A300 soon, though pricing information is not yet available.