Plextor PX-NAS4: Up To 8TB Of Power-Frugal NAS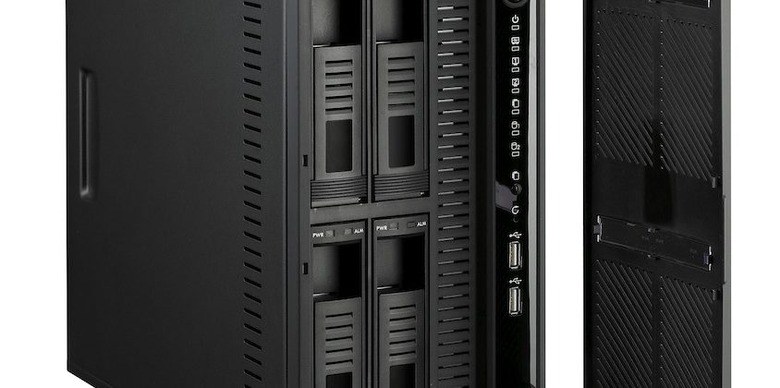 Plextor has outed its latest NAS, the four-bay PX-NAS4. Capable of putting up to 8TB on – or under – your desk, the PX-NAS4 supports iSCSI together with RAID JBOD/0/1/5/10 (with a hot spare bay for RAID 1/5 setups) and both eSATA and USB ports for adding external drives.
There's also optional 256-bit encryption and a "Snapshot Backup Utility" which can apparently grab an image of the current data setup for restoring should the active copy subsequently melt. Plextor is also talking up the PX-NAS4's eco-credentials, saying it uses 60-percent of the power of a typical NAS (58W in full access mode; 25W in standby). It will go on sale at the end of the month, priced at $399.99 drive-free.
Press Release:
New PX-NAS4 Network-Attached Storage from Plextor

Plextor announces a new four-bay, 8TB NAS device

(Fremont, CA – November 17, 2010) – Plextor LLC (www.plextor.com ), a leading developer and manufacturer of high-performance digital media equipment, announces the PX-NAS4, its latest network-attached storage (NAS) device. The PX-NAS4 offers an exceptional performance, massive storage capacity, high data reliability and security, and low power consumption, making it a perfect solution for today's small and medium sized business environment.

With dual LAN ports, the PX-NAS4 provides substantial bandwidth up to 2Gbps data access to support the increasing data demands and needs of small and medium-sized businesses. PX-NAS4 has the capacity to store up to 8TB of data across four hot-swap drive bays. Also, the PX-NAS4 has a storage expansion option available via built-in eSATA and USB ports which allow for the connection of additional external hard drives to meet continuous storage demand.

The PX-NAS4 offers the convenience of iSCSI, making its storage available as consolidated network storage over existing low cost networks. Valuable data stored in the PX-NAS4 is always protected with an advanced volume encryption using an AES 256-bit algorithm. PX-NAS4 is password-protected allowing only authorized users' access.

"With today's increasing amount of digital data, businesses need to save such data in a secure and accessible area," said Clifford Sun, Senior Product Marketing Manager of Plextor, "Plextor is excited to offer our next phase of network-attached storage providing a reliable, secure and convenient storage solution for small and medium businesses."

The PX-NAS4 offers multiple disk configurations: JBOD, RAID0, RAID1, RAID5 or RAID10, with a hot spare bay provided for immediate drive replacement if a drive fails (RAID 1 & 5 only). The PX-NAS4 also features Snapshot Backup Utility, a method of backup that takes a picture of the current state of the NAS, to protect and safeguard precious data.

A low-power consumption design makes the PX-NAS4 Energy Star compliant and reduces the energy demands to 58 Watts in full access mode (25 Watts in standby). The device requires only 60 percent of the power of a typical 200 Watt NAS, saving electricity and running costs.

The PX-NAS4 will be available end of November with an MSRP of $399.99.