Plex Podcasts exits beta with new offline mode and OPML importing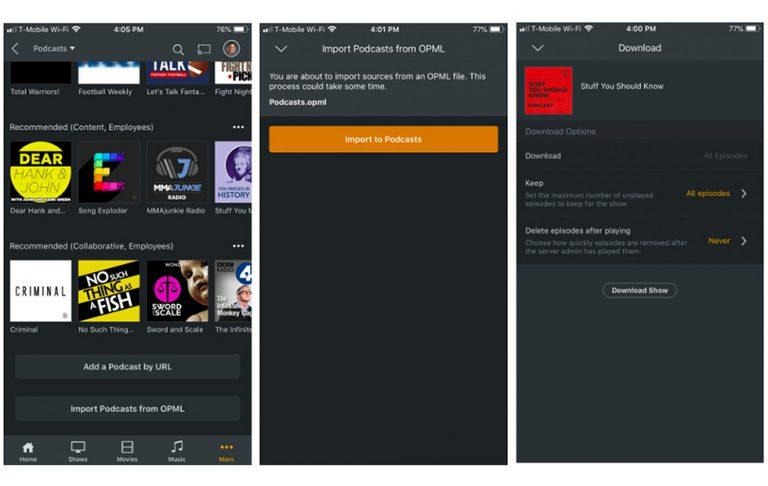 In late May, Plex launched its own podcasting platform for iOS, Android, and Roku devices, but only as a beta. Those who were willing to test it could use the feature to access their favorite podcasts, aggregating that content with their existing movie and music libraries for a less fragmented experience. Unfortunately, the beta lacked some important features for many users, driving them to existing alternatives, but Plex is back with a couple big changes.
Plex Podcasts is available in the Plex mobile app for anyone who has a Plex account, including a free one. The platform provides access to the podcasts you'd find in alternative apps like Stitcher, the appeal being that you can do this within the same app you use to watch movies and stream music. As of today, Podcasts is no longer in beta.
Plex has addressed some requests from users by adding two important features: the ability to download content for offline access and OPML importing. Offline mode is arguably the most important feature for many users, enabling them to download content to their device for times they're away from WiFi.
The app supports downloading a specific number of episodes, including all of them, just the latest 3 or 5, only the newest episode, the next episode following the one the user most recently listened to, and more. Users can choose the maximum number of episodes that are stored on their device, as well as how quickly episodes are deleted by the app.
OPML importing, meanwhile, is a feature that enables users to import their existing list of podcasts. Assuming you're using a different podcasting app, it likely supports exporting your feed; Plex can now import that data, eliminating the need to manually follow the podcasts.
SOURCE: Plex