PlayStation Vue lost Viacom channels: 3 other ways to stream those shows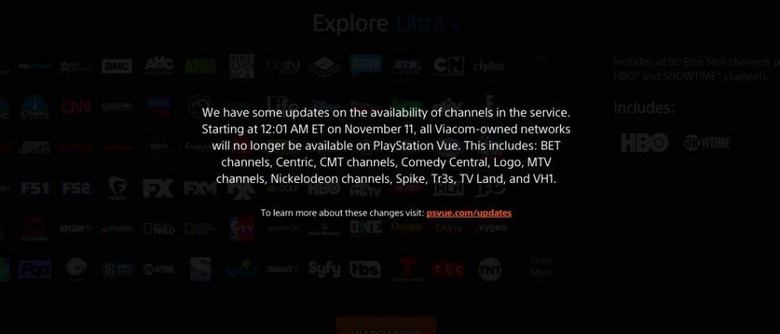 Earlier this week, Sony made a relatively quiet announcement: all of its Viacom channels would be disappearing from PlayStation Vue starting November 11. Subscribers still saw the channels in their guide when that date rolled around, but the show info was blank and you couldn't select them. Starting Saturday, subscribers were greeted with an on-screen message informing them about the channel removals, and many people are less than happy. Fortunately, there are some alternatives for streaming those now-missing shows.
Viacom channels include Comedy Central, Spike, CMT, VH1, MTV, Nickelodeon and related kids channels, and more. This means Saturday morning cartoons on Nick, South Park on Wednesday nights, and more are no longer available to PS Vue subscribers.
Sony still isn't giving subscribers any specific reason for this change, instead saying, "we have determined that removing the bundle of channels from Viacom is the best way for us to continue to offer the most compelling value to our fans." That leaves everyone in the dark about whether these channels will ever return or if they're gone for good.
Fortunately, and depending on which other video subscriptions you have, you may still be able to stream the shows you lost access to...but if not, you have some options.
Hulu
If you've never used Hulu, you'll probably be surprised to learn it gives users next-day access to a bunch of television shows, including some of the ones you lost access to yesterday. New South Park episodes, for example, which stream on the now-removed Comedy Central, are available to stream the day after they air. This platform also gives access to Nickelodeon shows like Spongebob Squarepants, which is also now gone for PS Vue subscribers.
The Hulu base subscription costs $7.99/month, and there's also an optional $4/month add-on to get rid of most commercials. In addition, Hulu allows users to add Showtime content for $8.99/month on top of the monthly subscription rate.
Sling TV
If you've decided to get rid of PlayStation Vue entirely, there's Dish Network's Sling TV, an alternative live television streaming service. Sling TV offers the Viacom channels Sony removed, as well as some other ones you couldn't get through PlayStation Vue, but there are some downsides. PS Vue subscribers will probably find the lack of DVR functionality the most difficult part of the transition.
While Sony's offering allows shows to be saved for viewing later on, Sling TV doesn't, and so you'll have to make sure you watch everything when it airs. If that doesn't sound so terrible, you can get Sling's "Orange" package at $20/month, "Blue" at $25/month, and Orange + Blue for $40/month.
There are also add-on packages like Sports Extra, Kids Extra, Lifestyle Extra, and Comedy Plus Extra for $5/month each. Adding Starz costs $9/month, Cinemax costs $10/month, and HBO costs $15/month. Spanish-language channel options are also available.
Season Passes & Video Apps
Some viewers don't care about most of the channels they lost, instead only caring about one or two shows they watched on one or two of Viacom's offerings. In this case, the best solution may be downloading the video app for that channel (when possible) or buying a season pass for the show (again, when possible).
For example, if you're upset that you won't be able to watch comedy shows on Comedy Central, you can download the Comedy Central app onto your phone, Roku, Fire TV, or just about any other popular platform. The Comedy Central app offers a bunch of content — including full episodes of shows — for free.
Video apps are also available for some other channels that were lost like TV Land, which also offers some free content, though other content is locked. Unfortunately, some video apps require you to sign in with a supported cable plan to access the content. Lamenting the loss of MTV? There's an app for that.
Season passes, meanwhile, are available for some shows and give access to the latest episodes of shows in exchange for a flat rate. These options aren't available for many shows, and you may have to use a service you've never used before like iTunes or Amazon Video. This option may be your best solution, though, if you're only missing a single show.