PlayStation VR 'Aim' gun controller hits shelves in May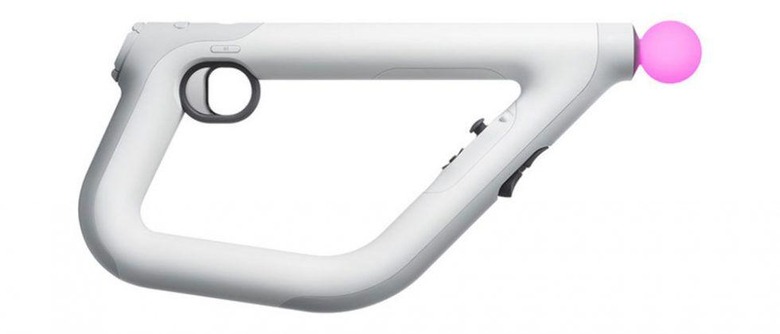 PlayStation VR owners will soon have access to a new 'Aim' Controller vaguely shaped like a gun. The new controller will be available starting in May to coincide with the Farpoint virtual reality shooting game that is exclusive to the PS VR. Sony made the new 'Aim' controller based in part on recommendations from Impulse Gear, the indie studio behind Farpoint. It won't, however, be necessary to play the game.
As the image above shows, the Aim controller isn't anything you'd mistake for a real firearm, instead resembling something like PVC pipes arranged together with a bright pink ball on one end and a trigger on the other. The design doesn't matter much, though, as you'll have the PS VR headset on your face while using the controller.
According to Road to VR, the Aim Controller will be available starting on May 16. The tracking sphere and cable-free design means users aren't hindered in their movements. The device has a thumbstick and trigger as well, so it can be used as an entire controller, no toggling betwixt it and a secondary controller necessary. Those who don't have the Aim controller, though, can still play the Farpoint game with a regular game controller.
Farpoint itself is described as a free movement game, a somewhat unusual method of getting around as far as VR games are concerned. The game will take place in what is described as a 'hostile alien world,' with it overall being an 'unnerving space adventure.' The Aim controller will be offered with the game as a bundle.
SOURCE: Road to VR