PlayStation Plus games for January 2015 revealed in full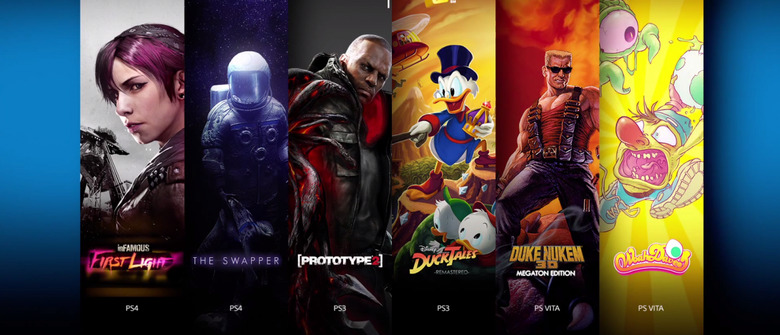 This week the folks at Sony have revealed the first several games that'll be pushed to the public in their PlayStation Plus users for free. This includes The Swapper and Infamous: First Light for PlayStation 4. It also includes Prototype 2 and Duck Tales Remastered for PlayStation 3. PlayStation Vita (PS Vita) users will be treated to Duke Nukem 3D: Megaton Edition as well as the game "Whoa Dave!" This should be a smooth first at-bat for the PlayStation Plus program for the start of the year 2015.
PlayStation Plus is the service you purchase for $50 each year that allows you access to multiplayer elements in several games. PlayStation Plus also gives you access to a set of games every month. With PlayStation Plus you retain access to these games just so long as you continue to re-up your subscription each year.
Last year the PlayStation Plus service gave access to games like Outlast, BioShock Infinite, Batman: Arkham City, Unit 13, Puppeteer, Limbo, Trine 2, Strider, Dead Space 3, and Crisis 3.
Batman: Arkham Asylum was also available along with Dust: An Elysian Tail, Velocity 2X, PlayStation All-Stars Battle Royale, and Injustice: Gods Among Us.
These games appear for one console at a time, and new games appear for PlayStation 4, PlayStation 3, and PS Vita every month. Just imagine the fun you'll have with Duck Tales – if you hesitated to buy it in the first place, that is to say.