PlayStation Network rebranded as Sony Entertainment Network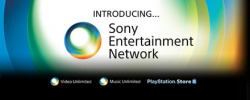 Sony has announced that its PlayStation Network will be renamed Sony Entertainment Network starting tomorrow, February 7. The rebranding is only a name change and does not affect usernames and passwords. However, current PlayStation Network account users are encouraged to look over the new Terms of Service and User Agreement.
The rebranding to Sony Entertainment Network will be applied to the PlayStation 3 and PlayStation Vita in upcoming software updates, but it will not affect the PSP at this time. This change is part of Sony's efforts to associate the service with the company's broader entertainment services, including Music Unlimited and Video Unlimited.
The discontinued use of the PlayStation Network name may help sweep away the bad memories of last year's security breach and month-long outage. The company reported a massive loss and recently appointed new CEO Kaz Hirai. Unifying its services appears to be part of the company's strategy to turn things around.
[via VentureBeat]