PlayStation Classic goes wireless with new 8bitdo adapter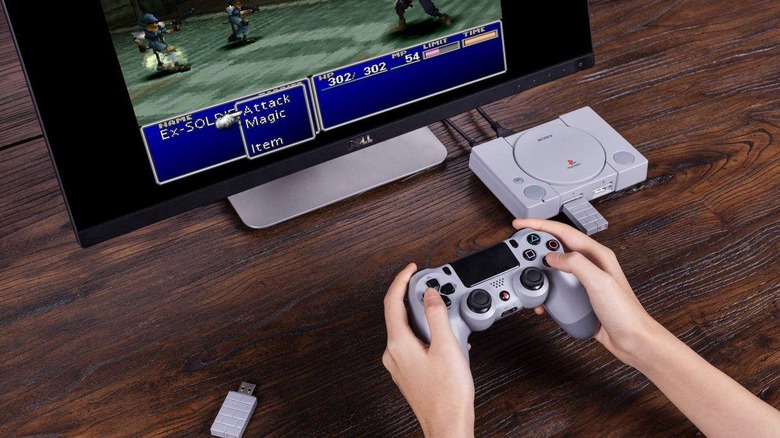 We may receive a commission on purchases made from links.
It seems that whenever one of these retro consoles launch, 8Bitdo is never far behind. With the PlayStation Classic now on shelves, 8bitdo has stepped in to make the console a little easier to use. It's doing that with a new Bluetooth wireless adapter that allows you to connect a variety of different controllers.
More specifically, this wireless adapter means that can use something like a DualShock 4 with the PlayStation Classic. Though there isn't actually a huge difference in terms of button layout between the DualShock 4 and the retro gamepad that ships with the PS Classic, PlayStation controllers have become much more comfortable over the years.
On top of that, wireless functionality is definitely a plus, as nostalgic as it may be to be tied to your console through a controller cable. Platform functionality expands beyond the PlayStation Classic, as this wireless adapter is also compatible with Nintendo Switch, Windows, Mac, and Raspberry Pie. So, if you find yourself using Bluetooth controllers on a variety of platforms, this may not be a bad buy.
The adapter is also compatible with a number of different controllers, including the DualShock 3, Switch Pro, Joy-Cons, Wii U Pro, and 8Bitdo's existing lineup of gamepads. Even if you don't have a PlayStation Classic, this might still be useful if you use any of those controllers regularly and would like to start using them across multiple platforms.
8bitdo's new wireless adapter – which comes in that familiar PlayStation gray – is up for pre-order now over on Amazon. It costs $19.99 like 8bitdo's other wireless adapters and will begin shipping out on December 31.