Sony is preparing to launch a limited edition Kingdom Hearts III PlayStation 4 Pro bundle. The company introduced its new console design today, revealing a dark model with subtle, intricate graphics featuring game elements on top. The bundle will be offered to consumers in the United States and Canada starting late next month.
The Limited Edition Kingdom Hearts III PS4 Pro bundle features the 1TB PlayStation 4 console with a customized design featuring imagery from the game. A matching DualShock 4 wireless controller is included with the bundle, though the stand shown below is sold separately.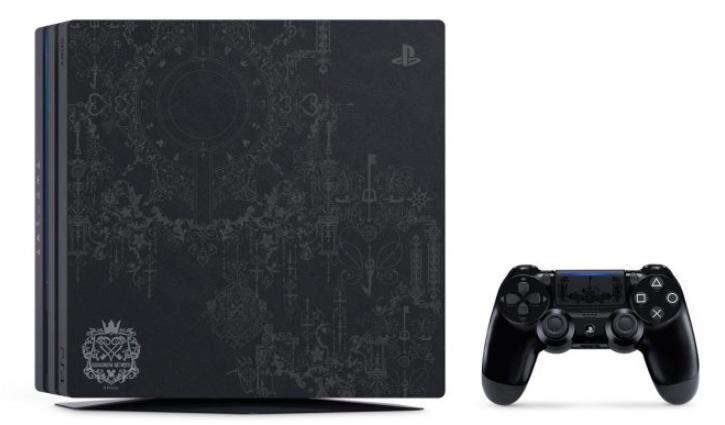 The bundle will launch on the same day as the Kingdom Hearts III game: January 29, 2019. A physical Blu-ray disc copy of the game will be included with the bundle, as well as access to exclusive digital content specifically for the PlayStation 4.
The PlayStation 4 Pro console offers benefits over the lesser models, namely support for 4K Ultra HD televisions and "enhanced" resolution on 1080p Full HD displays. As well, the Pro variant supports HDR content, anti-aliasing, smoother locked frame rates, faster targeted frame rates, a Boost Mode for more power, and overall improved graphics.
The Limited Edition Kingdom Hearts III PlayStation 4 Pro bundle is available to preorder now for $399.99 USD. Customers who aren't interested in the limited edition console can get Kingdom Hearts III on its own for $59.99 USD; game preorders are live now.