PlayStation 4 drops Ustream as live-streaming broadcast option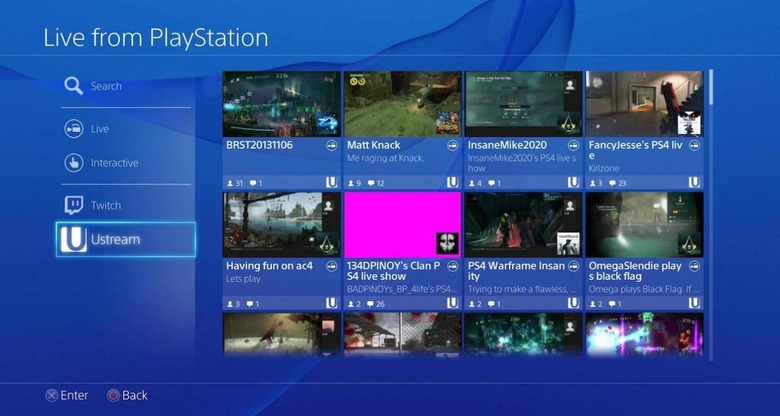 If you're a PlayStation 4 gamer that likes to broadcast your gameplay live on the Ustream service, you've got about one month to move your streaming to another platform. Sony has announced that the PS4 will be dropping support for Ustream on August 1st, meaning players won't be able to stream to it, nor will they be able to find Ustream content on the console's "Live from PlayStation" section.
Fortunately for broadcasters, not all is lost. Twitch and YouTube, arguably the two largest platforms, will still be available on the PS4, as will DailyMotion. While Ustream has been part of the console's live streaming feature since the PS4 launched, it just never gained as much popularity as Twitch.
Sony made the announcement on its Support website, although it didn't give an exact reason for dropping Ustream. It's noted that the August 1st cutoff date may vary "depending on the region," and that Ustream support will also be removed from the PlayStation Vita and the PlayStation mobile app.
In addition to just not being as popular, it's likely the reason behind dropping Ustream has to do with the service not being updated to focus on consumers as much. It was purchased by IBM at the beginning of the year with the intent to be used in the company's enterprise services.
Twitch, on the other hand, was bought by Amazon back in 2014, and has continually focused on becoming the platform of choice for game broadcasters. It has worked with developers to get its features integrated not only into consoles, but into PC games as well, and has expanded into the world of eSports league broadcasting.
SOURCE PlayStation