PlayStation 3 now #1 device for Netflix streaming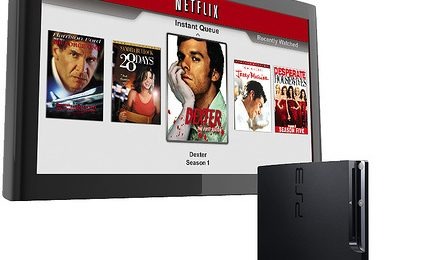 Sony announced today that the PlayStation 3 is now the most popular platform to watch Netflix on. The streaming service is currently available on every major gaming console and most mobile devices, as well as the Netflix website. Out of all those platforms, Sony Computer Entertainment America's Phil Rosenberg says that "more people stream Netflix content to their televisions via PS3 than any other device worldwide."
Netflix CEO Reed Hastings also had some words about the recent milestone for Sony and the PlayStation 3. He says that the "PS3 is a natural fit for Netflix in terms of developing" and deploying the service's newest features. Hastings says that it's really easy to update the Netflix PS3 app, and it allows the company to "transparently update" the application with new features "on a daily basis."
The PlayStation 3 first introduced Netflix over three years ago, and it's been a platform for which many Netflix features have been released first. For instance, the PlayStation 3 was the first to offer Netflix in full 1080p video resolution with 5.1-channel surround sound, as well as offering post play, second-screen controls, on device sign-up, and subtitles.
Last year, though, the Nintendo Wii held the crown for the most-popular Netflix streaming device, according to Nielsen. The research firm reported that the Wii represented 25% of Netflix's market share, with the PlayStation 3 trailing behind at 13%. We're not sure how long the PS3 will be able to keep its #1 spot, but we reckon that it won't be held onto forever.