playGo USB streams music from PC or Mac to home audio system wirelessly and easily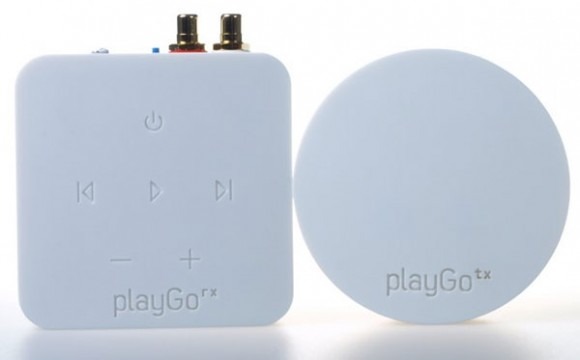 If you have a home audio system that you want to stream the music from your computer to, playGo has a new offering that will let you do that with no software in only a few minutes. The playGo USB kit includes a sender and a receiver unit. The sender plugs into the computer via a USB port and the receiver connects to just about any audio gear. That includes connecting to stereos, powered speakers, or headphones.
The playGo USB receiver will connect to any audio gear using optical or RCA connectivity. The case of the playGo USB is machined out of a block of Corian, which is a material that is used to make countertops. The company says that the industrial looking design of the playGo USB can't be duplicated with cheap plastic. The device will work with PC or Mac computers. All the user needs to do to play music from the device is plug it in and hit play.
The audio is output digitally and the wireless range for the music is 75-feet. The playGo USB was designed, manufactured, and hand assembled in the US. The device measures 4" x 4" x 1" and has playback controls on top of the sender. The system will automatically find the clearest channel between the sender and receiver for no interference. The receiver does need an AC adapter. The receiver has 2-channel analog output with gold RCA connections and a digital audio output. It comes with the cables needed for connection. The only big downside is that the playGo USB system costs $449.99.