Plastic Logic ebook reader video demo: touchscreen & page refresh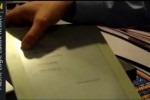 Plastic Logic were the thorn in Amazon's side when the company announced the Kindle 2 earlier this month, launching their own content partners at the O'Reilly TOC Conference. The Open Publishing Lab shot some video of the latest Plastic Logic Reader prototype, this time around with a working touchscreen layer; you can see it after the cut.
According to the Plastic Logic rep, the Reader will support Microsoft Office files – presumably Word, PowerPoint and Excel – as well as numerous other formats such as PDF, ePub, eReader and others. What we're still yet to get clarification on is the wireless formats that the Reader will offer; Plastic Logic have confirmed that it will have wireless connectivity, but there are no details as to whether that's WWAN as with the Kindle 2, or merely WiFi.
We're also hoping that they manage to sort out the persistent vertical lines running down the display, at least by the commercial launch in 2010.  Given that this large-display ebook reader is unlikely to be cheap, Plastic Logic can't cut any corners if they expect to find customers.
[via MobileRead]