Plastic Logic E-Reader Gets 3G, New UI [Video]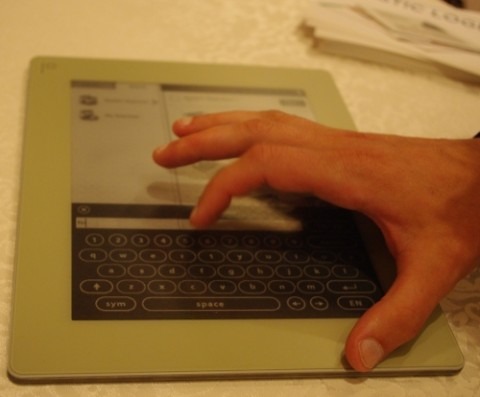 Plastic Logic brought along their latest e-reader prototype to the D7 conference, and they've spilled a few more details ahead of the E Ink slate's 2010 launch.  The touchscreen device now has an on-screen QWERTY keyboard and a pop-up toolbar with navigation options; there's also confirmed WiFi and 3G data.
Video demo after the cut
Tapping in the bottom left brings up the toolbar, with options to annotate with handwritten text and other markings, plus real-time searches and access to the folder structure.  Page turns in this prototype are slower than on the Amazon Kindle, at around four seconds, but Plastic Logic expect that to be improved before the final production model arrives. 
The company's reps wouldn't be drawn on pricing, but Walt Mossberg suggested around $500.  We'll have to wait and see whether that figure pans out.  Plastic Logic are aiming at a business audience, not the same ebook audience as the Kindle, who they believe will pay more for more flexible format support and a larger, 8.5 x 11 inch E Ink panel. 
[via Incremental Blogger]