Plastic Logic DEMO Video Hands-On Versus Amazon Kindle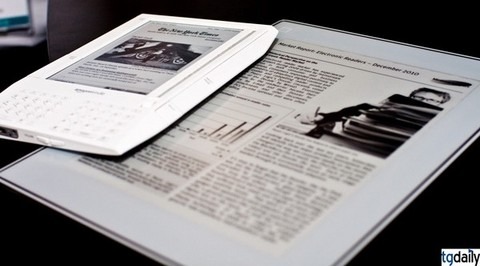 Plastic Logic's recently announced e-newspaper probably suffered, ironically, for looking simply too much like a slick concept rendering.  We're so used to seeing realistic mock-ups that it's hard to believe something like the 7mm flexible display could actually exist.  However TG Daily have some more information and a video of the device in action at DEMO this week, and it's shaping up to be a real Kindle contender: 8.5 x 11-inches of touchscreen, both WiFi and Bluetooth, and peer-to-peer networking.
Check out the DEMO video of the Plastic Logic e-newspaper after the cut
As well as using the microUSB port to sync up the Plastic Logic with your PC (and charge it), you can use either Bluetooth or WiFi to connect to the internet and download subscriptions that way, or to link up with another e-newspaper nearby and swap content that way.  The company are still playing coy with who exactly has signed up or stated interest to provide regular media for the device; we'll have to wait until CES 2009 to find out exactly.
The touchscreen allows for not only gesture control, flipping through pages and the like, but annotation.  That will work in not only subscription-based content, such as newspapers and magazines, but Word files, slides from PowerPoint presentations and PDF documents.  Plastic Logic, though, are not describing the e-newspaper as a direct Kindle rival, but rather a reader and reviewing device for executives with a catalogue of existing documents.