Plastic Logic and Olive Software Teaming Up for Plastic Logic Reader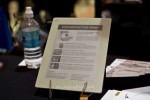 Plastic Logic announced today that Olive Software will be a key service provider and partner for the Plastic Logic Publishers Program. Together, they plan on developing content publishing solutions that enable major newspapers, magazines, web content, and other publishers to simply and efficiently optimize and distribute their content for the company's forthcoming eReader. The Plastic Logic Reader is designed specifically for mobile business professionals, and is due in the market in early 2010.
The Plastic Logic Reader is an ultrathin, lightweight device that features a form factor about the size of an 8.5 x 11-inch pad of paper and weighs less than most magazines. The PLR has a revolutionary plastic display, which is part of the company's plastic electronics technology. The WiFi and 3G enabled eReader is the perfect companion for those business professionals who need to keep updated on a constant basis, and read multiple documents while on the go.
"We're very focused on helping our publishing partners create unique reading experiences for the Plastic Logic Reader, and Olive is a valuable partner with us in achieving that goal. Olive brings deep experience in serving the needs of major publishers in the industry, including many of our strategic partners," said Daren Benzi, Plastic Logic's VP of Business Development. "We are excited to have them as a strategic content production partner."
Olive is a pioneer in the digital publishing industry, with over a decade of experience in the development of innovative, multi-channel publishing, content management and distribution solutions. The company currently produces hundreds of newspapers, magazine titles for industry leading publishers across multiple platforms. This includes electronic reading devices, smartphones, browsers, IPTV and more. Plastic Logic also has announced key strategic publishing relationships with the Financial Times, USA TODAY and the Detroit Media Partnership, which manages the business functions for Detroit Free Press and The Detroit News – with more announcements to come.