Plasma jets hitting the Earth's magnetic field drop a drum-like beat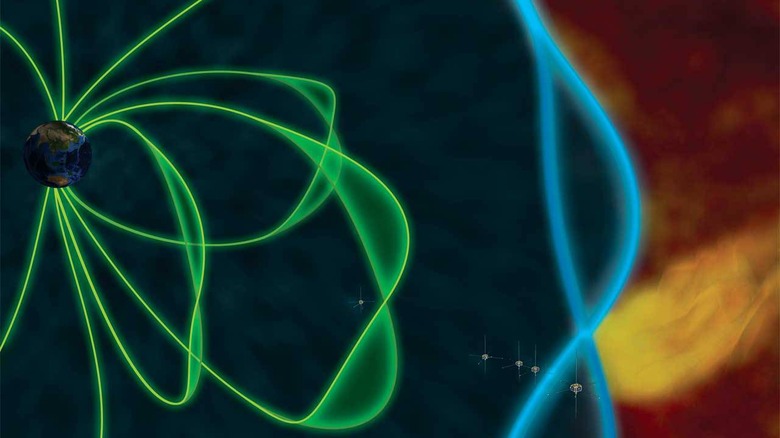 Science fiction might lead us to believe that space is silent, but it's not according to NASA. The near-Earth environment is filled with what NASA calls eerie sounds caused by phenomena that scientists have long known about. The phenomena that create sounds in space include electromagnetic waves that resonate like string instruments and whistle like wind instruments.New research published recently has found a new sound in space that sounds like a drum. The drum-like beat is created by plasma jets striking the boundary of the magnetic bubble around the Earth. The magnetic bubble around the Earth that protects us from all manner of space hazards is called the magnetosphere, which is itself encased in a region known as the magnetopause.
The magnetopause is the first barrier to high-energy particles coming from the sun. Most solar particles are deflected around the Earth thanks to the magnetopause, but in the right conditions, some particles can get through. Scientists are working to understand the magnetopause in an effort to keep satellites, telecommunications, and astronauts safe from potentially harmful radiation particles.
The scientists used data from the THEMIS (Time History of Events and Macroscale Interactions during Substorms) to discover that when the magnetopause is struck by a jet of plasma from the sun, it vibrates like a drum with waves moving back and forth across its surface. This is similar to how sound moves on top of a drumhead. The discovery comes decades after this exact behavior was theorized.
It took so long to confirm the theory that speculation had suggested the drum-like vibration never happened. NASA says that when processed correctly, the waves in the magnetosphere can be heard as sounds. Vibrations created by the waves penetrate the magnetosphere and trigger other types of waves resulting in a sort of space symphony.