Plantronics Voyager PRO Bluetooth headset review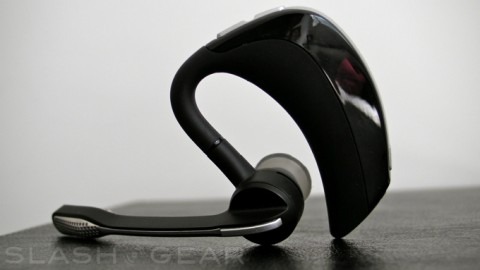 You wait for a new high-end Bluetooth headset and along come two at the same time.  If Aliph's Jawbone PRIME is the jewelry-like fashion model, the Plantronics Voyager PRO is the suited business version.  We've already seen the Jawbone PRIME live up to its tech-packed spec-sheet; Plantronics promise just as much noise-processing magic from the Voyager PRO.  I've been testing it out on the busy streets of Rome.
Unless you're a telemarketer, you're unlikely to think the Plantronics Voyager PRO discrete.  While rivals like Aliph's Jawbone PRIME have aimed for compact and jewel-like with their design, Plantronics have definitely put function over form.  Behind the ear sits a large battery, linked via a flexible rubber arm to a protruding boom arm; since it's your outer-ear that holds the Voyager Pro in place, the earbuds are picked for their comfort rather than their tenacious grip.  Plantronics bundle two different sized ear-gels together with some more traditional foam earbuds.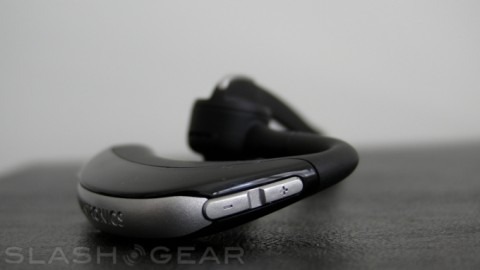 Hardware controls are minimal, basically comprising a large multifunction power/pairing/call-answer/call-end key and a small volume rocker.  A status LED lives above the main button, putting it right behind your ear; I'm not a fan of blinking LEDs on headsets to begin with, but this seems a particularly out-of-the-way place to site it.  Because of its positioning, the multifunction key requires a firm grip on the headset; I had mixed results stabbing it with a single finger.  A microUSB connector serves to recharge the battery.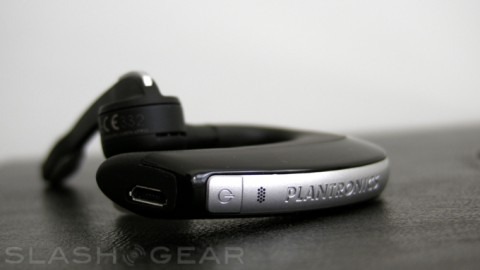 Surprisingly, despite its bulk, the Voyager PRO proved comfortable to wear.  Tipping the scales at 0.6oz, but spreading that weight across the whole ear, you could realistically sport the Plantronics all day without tiring of it.  While the flexible arm is intended to make glasses and sunglasses-wearers comfortable, we still prefer an earhook-free headset.  I found the rubber arch to be too bulky to hug the ear enough so as not to rub or nudge glasses; of course, those with bigger ears will probably appreciate how accommodating it is.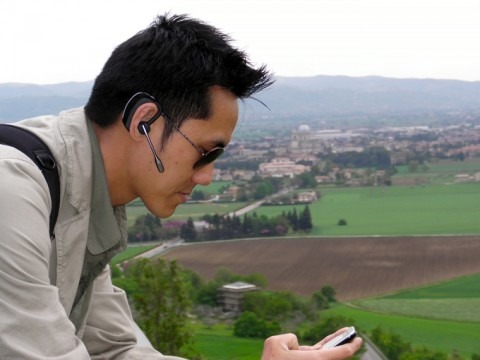 I paired the Voyager PRO with a number of test handsets, and experienced roughly 20-25 feet of usable range; that of course is cut down significantly if you put your phone into a pocket or purse.  Meanwhile runtime – estimated at up to 6hrs talktime or up to five days standby – proved just as impressive as the sizable battery might suggest.  I managed full, busy days of use with several hours worth of calls without ever hearing the battery warning tone; even if I had, Plantronics claim it takes just 90 minutes to rejuice from the supplied AC power supply.
For those six hours you'll get amazing sound quality.  The upside to a lengthy boom microphone is improved speech pickup, and to that Plantronics have added their AudioIQ2 technology together with noise-cancellation systems.  Together, they add up to highly impressive voice isolation, both for the wearer and whomever they're talking to.  Walking around noisy, windy, crowded streets of Rome, callers couldn't perceive any difference to when I'd spoken to them from our flat.  Unlike some noise-cancellation tech I've tried in Bluetooth headsets, the Voyager PRO works its magic without simultaneously mangling, compressing or robotizing your voice.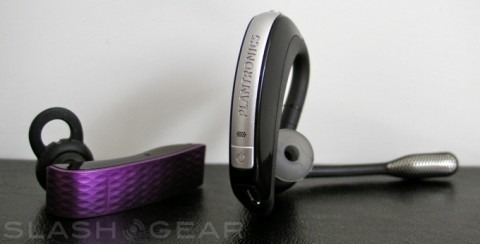 Whether it performs better than the Jawbone PRIME is a difficult question.  My back to back testing suggested that, in everyday situations, callers couldn't tell the difference between the PRIME and the Voyager PRO.  I felt the Jawbone deals with direct wind-noise a little better than the Plantronics, while the Voyager Pro has the edge on natural voice clarity.  Its processing produces a louder, more defined sound, versus the PRIME's smoother tone.  For most people in most environments, though, we don't think there's much to differentiate the technology.
Update:  Vincent has just called me from a crowded bus in Rome, whispering "like a tiny mouse", and there was no perceivable difference in his voice, nor identifiable background noise.  The only thing different was that he didn't sound as hyperactive as usual – quite a pleasant change!  There's a photo of the bus environment in the gallery below; the Voyager PRO may not tick the aesthetic boxes, but the audio quality can't be understated.  Chris Davies
Plantronics told me that Voyager PRO is targeted to a specific market: hardcore business users.  The gamble is that those users are willing to sacrifice style for comfort and, to some extent, performance.  The Voyager PRO certainly offers superlative audio quality and – for non-glasses wearers at least – it's comfortable enough to wear for long periods, but like I'm simply not convinced it offers enough over the Jawbone PRIME to balance its obtrusiveness.  The price tag of $100 is a lot of money and while the Jawbone PRIME costs $29 more, I reckon there's more flexibility with it; I have a feeling most consumers will feel the same way.