Plantronics Backbeat FIT Sports Headset Review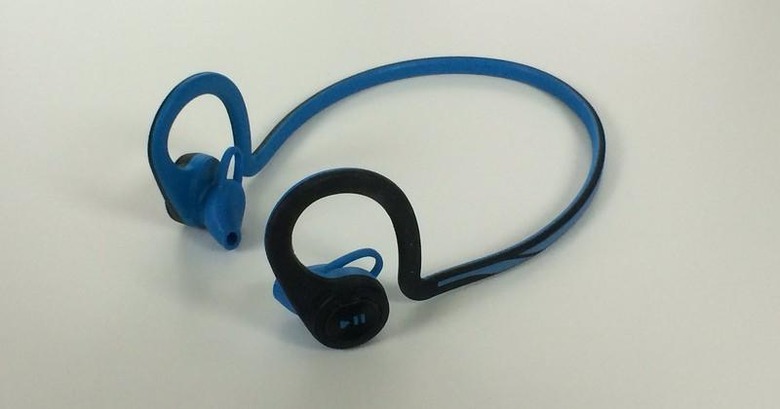 Plantronics is no strangers to Bluetooth headsets. Their lineup includes several wireless varieties, so the options within their offerings alone are impressive. Does their BackBeat FIT do the lineup justice, though? We go ears-on (on ears?) to find out whether or not this one is a winner or not.
Hardware
The first thing you notice about the BackBeat FIT is it's youthful color scheme. In our instance, a black base gave way to 'Electric Blue' accents, though you could choose the bold 'Lime Burst' if you like. The spaghetti-strap connector is easily pliable, which flows right into the molded over-the-ear pieces.
The BackBeat FIT, while over-the-ear, isn't in the ear. There are two directional speakers that aim inside of the ear canal (and can be moved a bit), but don't actually occupy much space there. A bit confusing at first, we found it oddly useful when in actual use (we'll tell you why in a bit). A small half-circle piece keeps the earpiece tethered to your ear.
Buttons on either side will control everything about the BackBeat FIT. That's where using it gets a little tricky, though. Cleverly designed and nicely built-in, the functions get a bit disguised in the earbuds. Small power and volume buttons give way to large call/play-pause buttons. We'd have prefered a bit more equality, as we think people will need to control volume levels as much as anything else. The microUSB jack is well hidden, but a bit tricky to pry open if you don't have something to slip in-between.
The BackBeat FIT is aimed at fitness, which the name aptly suggests. A pouch accompanying the earbuds doubles as an arm band for your iPhone or smaller Android device (we got a Moto X in just fine), handy for the runners out there. By turning inside-out, the sleeve's reflective inside becomes a safety feature when holding your device close to your arm. A power cord is also included for charging, which takes about two hours from a completely drained state.
Use
The BackBeat FIT is really comfortable; a great option for those who don't want something clogging up their ear canal, but also don't want to walk around with Beats headphones on. Sleek and subdued, but also reflective, the BackBeat FIT is one you could comfortably leave on for a long time. We think it's as good for home or office use as it is fitness.
Pairing was simple — just hold down the power button. On iOS, you'll be prompted to download an app that updates your headphones once paired. It's a good sign that Plantronics has no aim to limp these into the market and then relinquish responsibility. The Android app can be downloaded from the Play Store, and serves as the only method for checking the battery level on the headset (iPhones will have it displayed up top on-screen).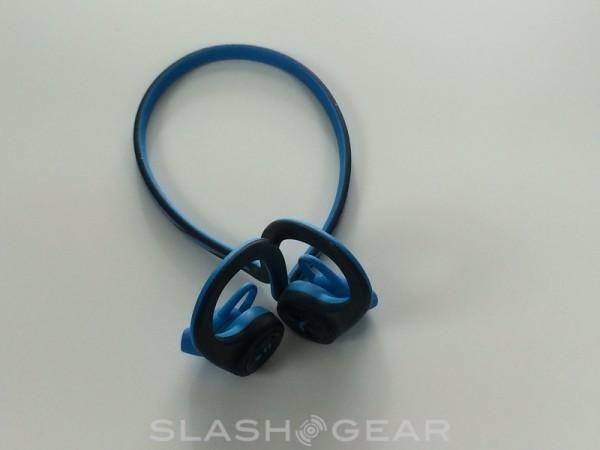 The aim here is healthy living, though, and the reflective properties of both the arm band and headwear suggest Plantronics has safety in mind as well. This has some clear running angles we've picked up on, but the lack of adjustment for the silicon strap that flows around the back of your head might put some off. It could — depending on how you run — flop against your neck, making for a minor annoyance. You could always take a rubber band or small clip to it, but it should be considered a slight oversight that there is no adjustment. Your mileage with the strap may vary, of course.
Sound produced from the BackBeat FIT is surprisingly big. It's got a bass-y heft to it, but also hits highs acceptably well. We wouldn't suggest trying to listen to a string concerto in mid-town traffic, but more popular tunes are going to be just fine.
One of the coolest features of the BackBeat FIT is that you can still hear what's going on around you when wearing them. For runners in the city, this is especially handy. Hearing traffic is important, so these are ones we'd highly recommend in that scenario. The BackBeat FIT is also "sweat proof", having a P2i coating on the earbud assembly. Plantronics also says their earbuds will give you 8 hours of playback, which we found to be accurate. A "deep sleep" mode puts the FIT into hibernation if you forget to turn them off.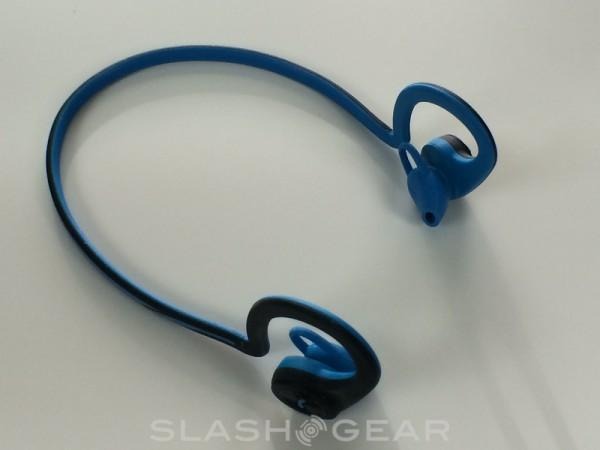 Conclusion
For $129.99, you're getting some great earbuds and an arm band for fitness use. If you were to buy these types of items separately, it would likely cost about as much (if not more), so consider that when you are looking to buy these. The arm band is comfortable, and the reflective quality is nice, but it's ultimately pretty basic. That's just fine by us, but if you're picky or like to fiddle with your playlist on a run, it might not suit you.
The controls are a bit kluge-y, unfortunately. Holding down the call button will get you to Siri, but the mic is a bit weak, especially with ambient noise. Taking calls was a snap, but the mic was, again, a touch weak. Volume control is operated by a single, tiny button; we'd have preferred a more profiled action, here, with a dedicated volume "up" and "down" action rather than the "hold for volume down, press for volume up" scenario. Taking a queue from the Jaybird Bluebuds X would have been smart, both for controls and strap management.
Big sound and a small profile lead us to recommend this, though. It's a bit spendy, but as a package, well worth it. The controls have a bit of a learning curve, which is the only issue we can point to as a reason some might not love it straight away. Overall, we're happy with our set, and we think you will be, too.