Pizza Hut Pie Tops II smart shoes can pause TV, order pizza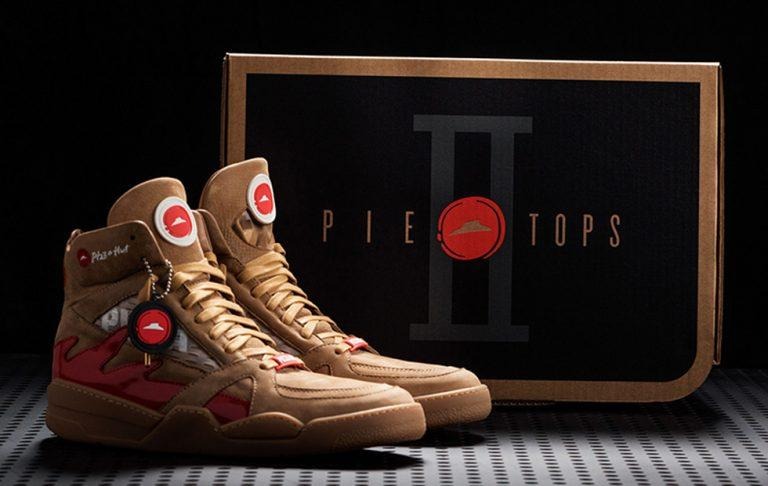 Pizza Hut is back with a new pair of smart shoes, these ones called the Pie Tops II. The name is based on the original Pie Tops model the company introduced in early 2017, only this time it is twice as good thanks to double the number of the buttons. As with the first Pie Tops model, the Pie Tops II are able to order a pizza with the click of a built-in button. That functionality is joined by a second button that pauses the wearer's TV.
The Pie Tops are billed as "smart shoes" due to the tech built into them. The original model were made with the help of Dominic Chambrone, also known as the "Shoe Surgeon," and he's back again for the Pie Tops II. As with the first set, this model is a limited edition product launched with the arrival of March Madness.
This time around, Pizza Hut's smart shoes will be available in two different color schemes: Extreme Marinara Splash, which is a bright red color with wavy "splash" designs on the side, and Wheat, which is a tan color scheme similar to the company's cardboard box designs.
The large circle on the tongue featuring the Pizza Hut logo is the button; the button on one shoe is used to order the meal, while the button on the other shoe is used to pause the TV while you answer the door to receive your pizza. Even better, you actually have a shot at getting a pair this year, though you'll need to move fast to do it.
During the week of March 19, Pizza Hut will offer its Pie Tops II shoes for sale through HBX.com, but only 50 pairs will be available to purchase. The company will also be giving away 50 pairs via social media and others via a raffle at Final Four Fan Fest. It isn't clear how much the shoes will cost, however.
SOURCE: AdWeek