Pizza Hut And Toyota Transform Truck Into Mobile Pizza Kitchen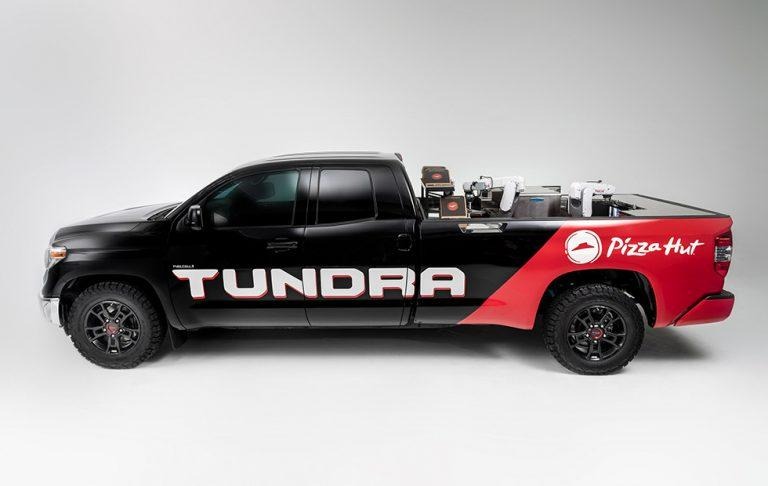 Toyota and Pizza Hut have teamed up to create a unique vehicle called the Tundra PIE Pro. This Tundra truck has been modified into a one-of-a-kind pickup with all the fixtures necessary to retrieve and bake a pizza. Features include "The Kitchen," a miniature pizza factory complete with robotic arms and a conveyor oven.
The Tundra PIE Pro was revealed at SEMA 2018, but don't expect to get one for yourself. The Pizza Hut truck has a bed equipped with a small factory-like kitchen powered by a hydrogen fuel cell electric powertrain. Overall, Pizza Hut says this unique truck-based kitchen can produce a finished pizza in six or seven minutes.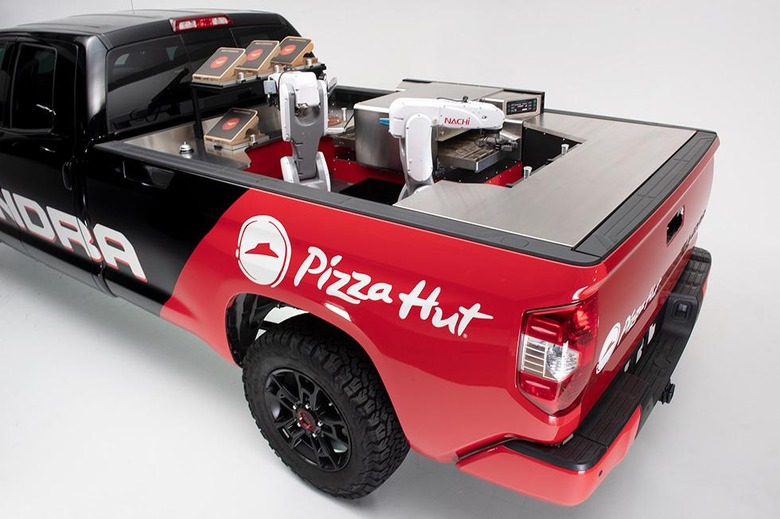 Pizza Hut Chief Customer and Operations Officer Nicolas Burquier said:
We are constantly focused on evolving our processes and systems through improvements and innovations that allow our team members and drivers to better serve our customers. We are exploring next-generation solutions and automation to support and streamline our delivery business in the future. The Tundra PIE Pro and our work with Toyota are only helping accelerate our commitment to transform both the team member and the customer experience at Pizza Hut.
This isn't a fun idea with no grander purpose, at least based on Pizza Hut's announcement. The company explains that a truck like this could enable the company to expand its customer base, offering hot pizzas to a larger number of people with delivery straight to their home.
Pizza Hut describes how the vehicle works, saying the robotic arm opens a fridge in the truck bed, then removes the right pizza and places and it on an oven conveyor. That pizza is then sent into an oven where it bakes. A robotic arm then retrieves the cooked pizza, cuts it, puts it in a box, and delivers it to the customer.
SOURCE: PRNewswire